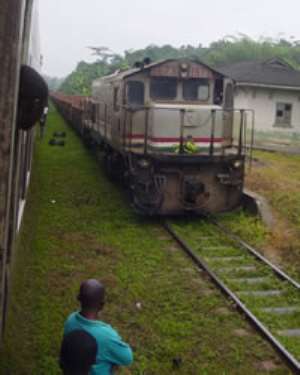 Ghana and the European Union on Thursday signed a 1.4 million-Euro agreement for feasibility studies on the Western Railway Corridor.
The project being carried out under the Mining Sector Support Programme (MSSP) is to enable government to obtain a clear picture of the investment potential and actions required to upgrade the Western Railway Line and the Port of Takoradi.
The Minister of State for Finance, Dr. Anthony Akoto Osei and Mr Filiberto Ceriani Sebregondi, Head of the Delegation of the European Commission in Ghana, signed the one-year deal, which is to be undertaken by Bonifica, an Italian engineering company.
Dr Akoto Osei acknowledged EU's support to Ghana over the years as a member of the African, Caribbean and Pacific (ACP) countries group.
He said the EU had committed 40 million Euros for the delivery of about 12 individual projects under the MSSP which would go a long way to contribute to poverty reduction especially in the transportation sector.
The feasibility study is to facilitate the sound mobility of goods and people on the western corridor railways by ensuring sustainable development of the region and the increased integration in the national economy.
The Minister said the railway rehabilitation programme would be in addition to development of adjoining infrastructure like the ports, dry port, railway stations and road network within the existing framework of the Ghana National Transportation Policy.
Mr Sebregondi said the purpose of the support was to define different possible technical and financial scenarios for the rehabilitation of the Western Railway Lines running from Takoradi port to Kumasi with branches to Nsuta and Awaso and the inland port of Boankra.
The consultants will also provide strategic directions for a future ECOWAS railway line to Burkina Faso to enhance the movement of people within the West Africa sub-region.