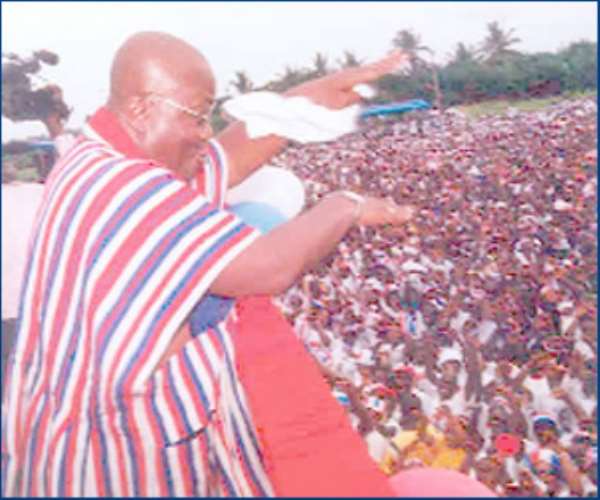 NANA AKUFO-Addo, flagbearer of the New Patriotic Party (NPP), has taken on John Dramani Mahama, running mate of the National Democratic Congress (NDC) for reportedly expressing doubts about the former's claim that Ghana can be transformed into a first world country within a generation.
John Mahama was reported to have told students at the University of Cape Coast that Nana Addo's claim is nothing but "a pipe-dream" and noted that "when our traffic lights are not working properly, how can Nana Akufo-Addo dream of Ghana becoming a first world country".
Nana Addo, in a sharp response described John Mahama as one lacking the can-do-attitude and noted that left with his likes, the world would still be in a Stone Age.
He referred the NDC running mate to a quote of the late Roberts Kennedy: "some people see things as they are and ask why? I see things that could be and ask why not?"
Nana Addo speaking to students of the Accra Polytechnic last Tuesday noted: "We are men who believe it can be done. Let the John Mahamas believe that because our street lights are not working properly we should remain in our third world status. I believe that our polytechnics should train and turn out the electrical engineers who would be on hand 24/7 to ensure that our street lights are working. Indeed we believe that we can reach the place soon where our electrical engineers can fix the street lights by remote control. We believe it can be done. Yes, we can."
The NPP flagbearer, speaking under the theme 'Education: Skills for Jobs' expressed the belief that education is the only way by which Ghana can dramatically change its fortunes and join the group of developed nations.
He said the youth form the country's most valuable resources thus there is an important need to invest in their education and training.
"Education is truly the soil for growing dreams, and we are now at a point where we need big dreams to finish the transformation of Ghana into a modern 21st century nation that remains distinctly and uniquely Ghanaian," Nana Addo added.
He said though the NPP led-government for the past seven years has achieved glorious strides in the educational sector; there are still enormous challenges that need a pragmatic solution.
Nana Addo told his audience that the prospects for the country's educational sector is bright and said his party plans to make education affordable and meaningful, where graduates would find jobs after school and sources of job capital.
He said his government would close the gab between the polytechnics and the universities, improve teacher training facilities and the pay of teachers, build public universities in the Volta, Brong Ahafo and Eastern regions and cooperate with the private sector to create the job market that Ghana needs.
Nana Addo further promised: "Jobs will also be created through expanding ICT services. In the next two years, we will create at least 1,000 new software and IT development jobs here in Accra and I will look for ways to develop ICT jobs all across Ghana, especially the North. Ghana has the ingenuity and the skill, and it can become the silicon valley of Africa"
 "These are not fanciful ideas as our opponents are at pains to make you believe. These ideas are born out of and grounded in reality," Nana Addo concluded. By Halifax Ansah-Addo