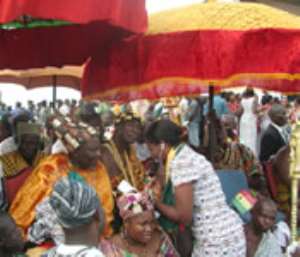 Naa Professor John S. Nabila, Wurugu Naba Pusansoa, was on Wednesday elected the new president of the National House of Chiefs in Kumasi.
He polled 34 out of a 47 total votes cast to beat his main contender, Daasebre Professor Oti Boateng, paramount chief of the New Juaben Traditional Area, who had 13 votes.
Awulae Atibrukusu, paramount chief of the Lower Axim Traditional Area emerged as the Vice President of the House. He polled 29 votes to beat Agyewodin Ampem Adugyamfi, Paramount Chief of the Acherensua Traditional Area in a second round ballot after a tie of 23 votes each in the first round.
Mrs Pauline Adobea Dadzawa, Commissioner of the Electoral Commission in-charge of the Ashanti and Brong Ahafo regions, supervised the election.
Naa Nabila and his Vice were sworn into office by Justice Frank Amoah, a Supervising High Court Judge in Kumasi to succeed Odeneho Gyapong Ababio, Paramount Chief of the Sefwi Bekwai Traditional Area.
Speaking after the election, Mr Sampson Kwaku Boafo, Minister of Chieftaincy and Culture, thanked the members for the peaceful manner in which the election was conducted.
He said such peaceful atmosphere was needed in the December, 7, 2008 presidential and parliamentary and appealed to the chiefs to advise their subjects to desist from acts that could bring conflict.
Mr Boafo also expressed concern about the numerous chieftaincy, land and ethnic disputes in the country and appealed to the house to device strategies that would help resolve them.
He further appealed to chiefs to offer the needed cooperation and support to the government in order to promote good governance and development of the nation.
Justice Amoah on his part attributed some of the numerous chieftaincy disputes to delays in installing new chiefs after stools or skins became vacant and suggested to the House to set a definite time frame for the installation of the a new chief for a vacant stool.
Odeneho Gyapong Ababio, the outgoing President, thanked members for the support he received during his tenure and urged them to extend the same to his successor.
He urged the new members, who had joined the House from their respective houses of chiefs in the regions to bring their experiences and expertise on board to ensure that the chieftaincy institution played its proper role in the governance of the nation.
Naa Nabila on his part thanked members of the House for the confidence reposed in him and urged them to unite to champion the cause of chieftaincy in the country.
He said the survival of the institution depended on the chiefs themselves and pledged to develop a blue print for the promotion of the institution.