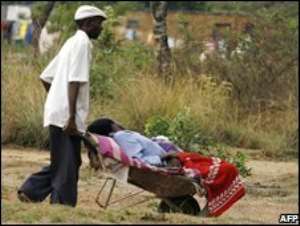 About 9,000 cholera infections have been confirmed in Zimbabwe
The cholera outbreak in Zimbabwe is "the greatest threat ever to face" the country, opposition leader Morgan Tsvangirai has said.
His warning came after health officials said the outbreak, which according to the UN has killed 360 people since August, was under control.
South Africa says it will not stop ill Zimbabweans crossing its borders.
Mr Tsvangirai added that talks on a power-sharing deal with President Robert Mugabe's party had stalled.
"The humanitarian crisis that is now engulfing all Zimbabweans represents the greatest threat ever to face our country," Mr Tsvangirai said in a statement reported by AFP.

These are people who need our help. They are our neighbours

Barbara Hogan

South African health minister
He also said the toll could rise as the rainy season got under way.
The Deputy Health Minister, Edwin Muguti, earlier said the outbreak was under control and blamed the situation on Western sanctions against President Mugabe.
In South Africa, where some Zimbabweans have been treated, Health Minister Barbara Hogan also described the situation as a humanitarian crisis.
"Under no conditions would we want to stop entry of any person who is ill crossing from Zimbabwe to South Africa," she said.
"These are people who need our help. They are our neighbours."
Aid agency Oxfam earlier called on Zimbabwe's government to declare a national health emergency - a call rejected by the government.
Talks stall
Oxfam said ordinary Zimbabweans were desperately short of food, health care, clean water and safe sanitation, and the crisis is set to worsen significantly in December.
Amid the dire predictions, Mr Tsvangirai said talks aimed at ending the deadlock over a power-sharing deal, being held in South Africa, were failing.
He also called on former South African leader Thabo Mbeki to step aside as mediator because his proposed solutions were "too small" for the scale of Zimbabwe's problems.
Mr Mugabe's Zanu-PF and the opposition Movement of Democratic Change (MDC) are in a stand-off following disputed presidential elections earlier this year.
They have agreed to form a government of national unity but have been unable to agree on who should fill key ministries.
Formidable challenges
Earlier UN chief Ban Ki-moon said Zimbabwe could not afford to fail in the negotiations if the country was to improve its humanitarian situation.
Mr Ban said Zanu-PF and MDC needed a workable agreement soon, so they could tackle "formidable challenges" ahead.
Botswana's Foreign Minister, Phando Skelemani, told the BBC's HardTalk programme earlier that the region needed to accept that the mediation in Zimbabwe's political crisis had failed.
He said borders with Zimbabwe should be closed to push Mr Mugabe from power.
"The rest of us should own up and say 'Yes, we have failed'. Call upon the international community and tell Mugabe to his face, 'Look, now you are on your own, we are switching off, we are closing your borders', and I don't think he would last," he said.