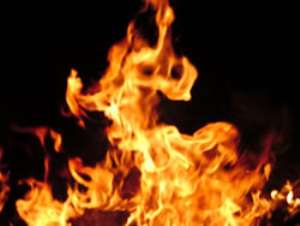 Fire gutted parts of Cedi House at dawn on Wednesday forcing a postponement of trading on the Ghana Stock Exchange (GSE) which is located in the building.
The Bank of Ghana and GSE, in a joint statement, said the fire outbreak occurred at about 0350 hours.
It said the Ghana National Fire Service was called to the scene and they responded promptly and put out the fire.
There were no injuries and the cause of the fire is being investigated.
The statement said top officials of the Bank of Ghana, the GSE and Securities and Exchange Commission have visited the scene to assess the situation.
Meanwhile, trading for Wednesday has been delayed and would be conducted between 1330 and 1430 hours at the Ghana Export Promotion Council Auditorium, opposite Cedi House, Liberia Road.
The GSE said it expected to revert to operations at the Cedi House by the close of the week.
Source: GNA