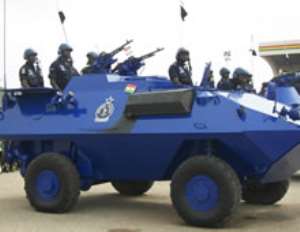 The Police Administration have warned to deal ruthlessly with trouble makers in the December polls.
They are ready to use maximum force including opening fire on tyrants who are bent on putting the elections into disrepute.
According to DCOP Kweku Ayensu Opare Addo, Ashanti Regional Police Commander, the December poll is so crucial to the development of the country and the police would not tolerate any acts that would put the polls into disrepute.
Previous elections have been marred by reports of well-built-muscled-men intimidating electoral officers and carrying ballot boxes away with impunity.
However, DCOP Opare Addo told Love Fm's Elton John Brobbey on Wednesday, such persons would be "deemed as armed robbers and the police will try to maim them, if in that process they die, so be it."
"From now until the election period, we are going to intensify our patrols and whoever comes into contact with us in relation to criminality would not be spared at all. It's a life and death matter," he stressed.
He reckoned the whole of the Ashanti Region is a flash point and the police will be up to the task in maintaining peace during and after the December polls.
The police have recently come under a barrage of criticisms following the disputed limited registration exercise with a call on them by civil society to be firm and more proactive in their activities.
In an attempt to boost the confidence of the citizens, the police have undergone series of training and mock exercises to maintain the security of the country during the elections.
An election security task force made up of service personnel from all the security agencies have been formed to oversee a peaceful December poll.
Story by Nathan Gadugah