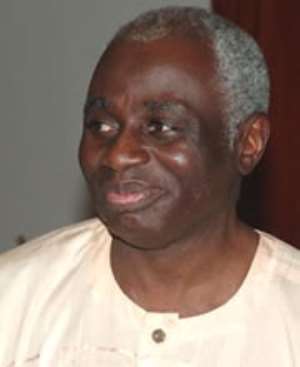 Madam Esther Cobbah, wife of incarcerated former boss of the Ghana National Petroleum Corporation, Tsatsu Tsikata, says had it not been God's intervention, her husband would have been dead by now.
Tsatsu, who is currently responding to treatment, was on Sunday November 16, 2008 rushed to the Intensive Care Unit of the Korle-Bu Teaching Hospital after he suffered a severe asthma attack.
But he survived "miraculously" though doctors who worked on him at Nsawam, where he is serving a five-year jail term, had expressed pessimism on his ability to live for a day.
"Talk to people who have asthma and you will see how it comes and sometimes when it comes within 30 minutes or five minutes you are gone. So it is a miracle that God sustained Tsatsu for over eight hours in that prison cell," she said.
She also noted how fervently the family and sympathizers had prayed for him a night before he fell sick and was happy that "our prayers were well received in Heaven".
In an interview with Akwasi Sarpong on Joy FM's Super Morning Show on Wednesday, Esther Cobbah said the husband is currently recovering; and recounted how the husband was almost dead when she first saw him.
"When I saw him at that point (on Sunday) Tsatsu was actually going, I have never seen Tsatsu like this before, he was gasping for breath, his eyes were grey and just rolling back."
She commended doctors who treated him for working hard which enabled him to contain a "worst" attack she also described as "earthquake with after shocks".
She said although Tsatsu was an asthmatic patient, his condition was worsened by the condition at the cell that created an infection in his chest.
Tsatsu, she said, has been a very quiet and private person whose fear of God was amazing.
"That was one of the things that attracted me to Tsatsu," Cobbah noted.
She called for a fair trial for her husband, insisting that he was not guilty. His sympathizers have also been asked to pursue his case with "clear head and clear mind" because "God says vengeance is mine".
Mr. Tsatsu Tsikata was on June 18, 2008 sentenced to five years in jail for willfully causing financial loss of over GH¢230,000 to the state by the Accra Fast Track High Court presided over by Justice Henrietta Abban.
Tsatsu was pronounced guilty of three counts of willfully causing financial loss and another count of misapplying public property and handed a five-year prison term on each, with the sentences running concurrently.
He pleaded not guilty throughout his trial and made several but unsuccessful bids to overturn his conviction.
Story by Isaac Essel