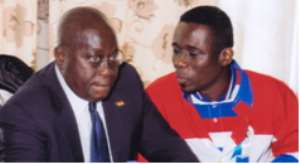 Nana Akufo-Addo and Mr. Kobby Annan, Chairman of the NPP-Holland branch.
With Ghana's election campaign in its final stretch, the New Patriotic Party branch in the Netherlands (NPP-Holland) has made a substantial cash donation to the party, to boost the campaign to clinch one touch victory in December 2008 general elections. Mr. Charles Owiredu, head of New Patriotic Party international desk, made the presentation on behalf of the NPP-Holland. Delivering a message accompanying the donation to party executives and the presidential candidate, Nana Akufo-Addo, Mr. Owiredu said, the NPP-Holland will continue to harness all available resources to assist the Akufo-addo lead campaign in securing a One-Touch win, to usher in another NPP administration under Nana Akufo-Addo, that will complete and progress the unfinished policies of president Agyekum Kufour, in order to achieve meaningful socio economic development for Ghanaians.
In acknowledgement, Nana Akufo-Addo telephoned the chairman of NPP-Holland, Mr. Kobby Annan in Amsterdam, to expresses his appreciation, indicating that the amount could not have come at a right time. He stressed that the branch's contribution will help the campaign enormously.
In response, Mr. Kobby Annan reassured Nana Addo of the branch support towards a one touch victory in the December election. He said, besides the cash contribution, their members are urging relatives in Ghana to vote for massively for the NPP and most importantly, advise them to refrain from acts that could bring the elections into disrepute.
Mr. Peter Mac Manu, the national chairman of the NPP on his part expressed gratitude to the party branch in Holland for the donation, urging them link up with sister Diaspora branches to proclaim the good works of the NPP government and party abroad. The national chairman also conveyed his warmth regards to all the members in Holland, especially, the Life-Patron, Nana Yeboah Dabanka, for his bold initiatives and working hard through the odds, to keep the party branch united and active in Holland. He assured Ghanaians in Holland that, the NPP is stronger than ever and that the world would witness a free, fair and violent free elections in December.