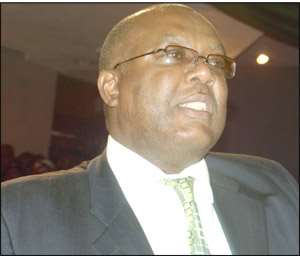 We have for a long time taken the liberties of our compatriots in leadership positions for granted dragging their names in the mud with reckless abandon. The Ghanaian media has never been engaged in maligning personalities in leadership positions as we are witnessing today.
It is as if it is a curse to opt to serve the nation in such political positions because it allows the opening of the floodgates of spewing lies against you.
No wonder many persons would rather stay where they are than opt for political offices for fear of being torn apart by newspaper vampires for no justifiable reasons.
We might be paying a price for choosing unfettered press freedom in our part of the world. Much as we do not have any regrets for the choice, we are though saddened at the degeneration of our mores as Ghanaians.
Truth is one value highly revered in our Ghanaian communities but today the tradition is going through a negative phase and we are afraid if care is not taken children could start pointing fingers at their elders in the not too distant future if they have not started already.
What else could be the repercussions of adults lying about things which did not happen at all like in the Victor's story?
Mr. Victor Smith savoured the freedom of expression blowing across the country by establishing a small newspaper whose foul contents find airtime on the many FM radio stations.
But for such radio stations the 100 or so copies carried in the armpit more to the radio stations than vendors, would not have been heard of at all.
Be it as it may, the former Special Aide to the former President did carry stories which have turned out to be mendacious and intended only to damage the reputation of the President and his political party and nothing else in the name of press freedom.
It is saddening that such a thing is happening in our country which prides itself as being the bastion of democracy and decorum.
It is saddening also to note that when such lies are carried the leadership of the National Democratic Congress (NDC) whose cause Victor Smith is serving does not deem it necessary to condemn them.
We are tempted to believe that such dirty politics are undertaken with the blessing of the party.
If our fears are confirmed then we shudder to think about the stuff the NDC leaders are made of.
It is ridiculous that a responsible person like Victor Smith would compose lies about his compatriot just because that person is president.
The position of president must be respected since the occupant represents the persona of our nation and when we attempt rubbishing his reputation for cheap political points we should be doing ourselves great harm.
Anytime such libelous materials are published by the NDC stable of spoilers, the matter is treated with kid's gloves and the matter ends there.
We are glad therefore that the President is taking steps to set the records straight especially since the so-called editor of the hardly seen newspaper has failed to substantiate his allegations or retract it and apologise as demanded by President Kufuor, the gentleman being maligned.
When matters of this sort are handled this way we think that an important precedence would have been established to enable us to correct anomalies in our management of democracy.
Kufuor, go on Kufuor go on.