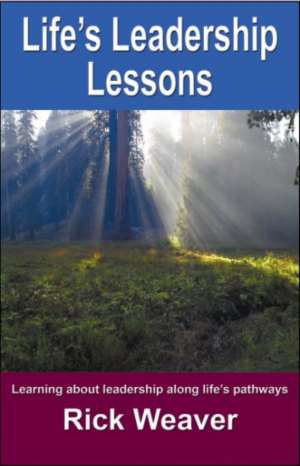 ROCHESTER HILLS, Mich., USA (November 25, 2008). With the high cost of travel and facilitated face-to-face training and development programs, Max Impact announced today the introduction of a full-year leadership program at about the same cost as most single workshops.
The new program allows leadership teams to spend ten to fifteen minutes each week discussing a chapter from "Life's Leadership Lessons", a book written by Max Impact's President, Rick Weaver. A workbook guides participants through 53 lessons devised to help connect to a higher level of leadership.
A Leader's Guide provides the group facilitator with tips to encourage conversation and keep the group focused. It includes tips for promoting participation and fielding questions, techniques for facilitating groups, how to transition between topics, and methods of summarizing a meeting. A sample letter to potential participants is also included in the Leader's Guide.
Each leadership study group member receives a copy of the book and workbook, the group leader receives the leader's guide, and the entire group receives a conference call with the author each quarter. At less than $99 per participant this presents a significant cost savings over traditional training methods.
The program covers key leadership areas, broken down into four sections. The "Essence of Leadership" looks at key leadership traits such as integrity and ethics, earning trust, mentoring, and being humble. In "Leadership on the Job" participants learn teamwork, decision making, handling problem people and negativity, overcoming procrastination, and managing change. "Leading in Business" covers competing, long term goals and short term focus, excuses, strategy, creativity, customer loyalty, and failure. The concluding section on "Personal Leadership" considers strengths and weaknesses, personal tragedy, using one's experiences, and priorities.
Each topic is framed around the author's personal experiences with people, events, and things. From Maria the cleaning lady to Jaclyn Smith to Martha Stewart, Weaver has worked with many people that have shown him valuable leadership lessons. In addition he learned leadership lessons from Sequoia trees, dolphins, doors, Wal-Mart, and many well-known news headlines.
The program is very complimentary to regularly scheduled staff meetings by providing a team building experience where staff learns leadership skills in addition to gaining key insight into projects and goals specific to their team.
For more information, visit www.mbcglobal.org or call 248-802-6138 or send an email to [email protected]
About MaxImpact
MaxImpact is a training and development organization based in Rochester Hills. Following a discovery process, Max Impact connects teams to a shared vision using fully customized solutions tailored to the specific organization's needs and corporate culture. For information on MaxImpact, visit www.getmaximpact.com, call 248-802-6138, or write [email protected]