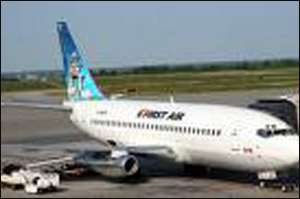 AFRICA WOULD need over $43 billion for aircraft renewal and purchase of equipment for the next 15 years in order to meet up with the challenges of air travel.
The Director of United Nations Economic Commission, Joseph Atta-Mensah, who disclosed this at the just ended 17th African Aviation Finance Conference in Addis Ababa, Ethiopia, described the challenges facing African airlines as undaunting but surmountable, reiterating that there was the need for common legal and regulatory framework, with less government interference.
Atta-Mensah regretted that Africa accounts for only two percent of the size of the air transport in the world, making it the smallest, adding that in 2006, 150 million passengers passed through African airports, while 50 percent of the passengers were on international flights in 2005, with the domestic market very weak.
"The development is coming on the heels of the domination of African routes by foreign carriers at the detriment of the continent's airline, which has been helped by the granting of more flight rights, which experts believe is fast leading to the extinction of African airlines."
He noted that "very soon, African airlines would lose the huge market to airlines like British Airways, Emirates, Virgin Atlantic, Lufthansa, KLM, Air France, among other airlines. Air connectivity on the continent is not too good."
He urged the continent's civil aviation authorities to place age restriction on aircraft flying over African skies so that Africa does not become the dumping ground for old planes from developed countries.
"The formulation of the Yamoussoukro Decision idea was to develop a blueprint for building a strong and vibrant aviation industry that would galvanise economic and social development across the huge continent of Africa," he stated.
President, African Civil Aviation Commission (AFCAC), Chris Kuto said unless the capacity of the air traffic control system is massively expanded, African economies will continue to suffer due to delayed exploitation of its potential by both itself and others.
"Most countries in Africa are focused on patching up the existing air traffic system. Africa must start thinking about transition to next generation air transport system to retain relevance. This will however require major capital investments over the next two decades to install new technologies and replace obsolete ones," he stated.
Meanwhile, airline finance giant, Export-Import Bank of the United States, said it has financed over 100 Boeing aircraft worth over $2 billion to airlines and leasing companies in Africa.
The figure, the bank stated, represented approximately 10 percent of the total number of aircraft.  
"Ex-Import Bank has not lost a penny on its African aircraft portfolio during the past 15 years and has collected over $100 million in exposure fees," Vice-President, Transportation Division of the bank, Robert Morin said.
He equally stated that during the past 15 years, the financial institution provided almost $60 billion aircraft financing to the world's airlines and leasing companies to support their acquisition of over 1,000 Boeing aircraft.
From Business Desk