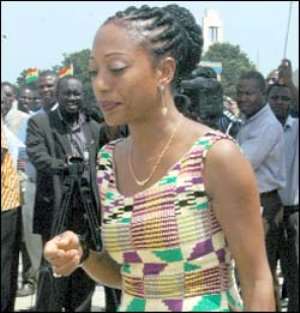 The late Dr. Kwame Nkrumah's daughter, Ms. Samia Yaba Nkrumah had a taste of 'shit-bombing' when she came face-to-face with human excreta deliberately plastered by National Democratic Congress (NDC) agents on the new offices of the Convention People's Party (CPP) at Bonyere in the Western Region.
The new CPP office due to be opened by Ms. Samia, daughter of the country's first President, was shit-bombed last Saturday in this town, the second biggest after Half-Asini on the coast.
Ms. Samia Yaba Nkrumah is CPP's parliamentary candidate for the Jomoro constituency.
It took between three to four hours to clear the place of the mess and subdue the offensive smell of human excreta before the function could take place.
The action did not deter the party faithful from turning up at the location to witness the commissioning of the new office.
According to Peter Enderson, Campaign Manager of the Samia Yaba Nkrumah Campaign Team, the shameful incident is a cry of the defeatist and that Samia would carry the day on December 7, 2008.
Showing all traces of being on rampage in the Western Region, persons suspected to be NDC elements made the work of the Police in Elubo difficult when even without application to hold a rally they threatened to go ahead at a time another party was scheduled to hold a function there.
But for the Police there could have been mayhem at the very busy border town.
Shit-bombing found a place in the political lexicon of Ghana when the NDC first used the tactic on the premises of the Free Press newspaper in the height of the Rawlings regime.
This was followed by the widely publicized shit-bombing of the Crusading Guide newspaper, a spectacle which was carried by the media across the country.
With the filthy and primordial method of dealing with political opponents now resurfacing, newspaper houses which suffered the tribulation could be jittery about the possibility of hosting once more human excreta on their premises.
A resident of Nima 441 in Accra (name withheld), a few years after the shit-bombing of Crusading Guide confessed to having been part of the gang which undertook the operation on behalf of the NDC.
By A.R. Gomda & Mark Essien