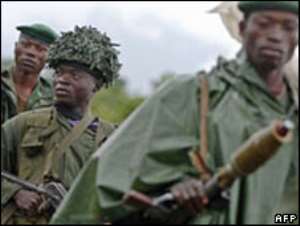 A rights group has accused the government of the DR Congo of using violence to eliminate political opponents since polls in 2006.
Human Rights Watch (HRW) said Congolese security forces had deliberately killed more than 500 people in a campaign against opposition groups.
A government spokesman told the BBC the allegations were false.
HRW said the abuses were attracting scant attention because everyone was focusing on the conflict in the east.
More than 250,000 people have fled their homes since fighting erupted in August between government troops and rebels loyal to Tutsi General Laurent Nkunda.
On Monday UN Secretary General Ban Ki-moon said that all parties involved in the conflict had committed serious human rights abuses.
His special envoy, Olusegun Obasanjo, has urged Congolese President Joseph Kabila to talk with Gen Nkunda in order to prevent the situation from worsening.
'Brutal force'
In its report, Human Rights Watch (HRW) accused Mr Kabila's government of "brutal repression" following elections in July 2006 aimed at bringing democracy to the country after years of fighting.
Five hundred perceived opponents had been killed since then and another 1,000 had been detained - many of whom reported being tortured, it said.
Many of those targeted were supporters of defeated presidential candidate Jean-Pierre Bemba and of another political group in the west of the country.
Opposition groups had also used violence, HRW said. "In these cases, the police and army had a duty to restore order, but often did so with excessive force," it said.
Lambert Mende, a government spokesman, said the report did not reflect the facts.
Congolese judges could not avoid convicting people who had committed crimes on the basis that they were political opponents, he said.
But Anneke Van Woudenberg, a senior researcher for HRW, said that the group had documented the use of "brutal force" against government critics.
"This, of course, together with the rebellion in the east, is dramatically undermining Congo's ability to develop a democratic state," she told the BBC.
'Grave concern'
Last week, the UN Security Council approved an additional 3,000 soldiers and police for the UN peacekeeping mission in DR Congo in an effort to prevent the conflict in the east from escalating.
Aid agencies are struggling to reach tens of thousands of people displaced by the fighting in North Kivu province.
On Monday, the UN leader said both government forces and rebel troops had carried out arbitrary executions, mass killings, rape and torture there.
In a 28-page report for the UN Security Council, Ban Ki-moon said the human rights situation there was a "cause for grave concern".
Special envoy Olusegun Obasanjo is due to return to DR Congo at the weekend for more talks aimed at ending the conflict, the UN said.
Source: BBC