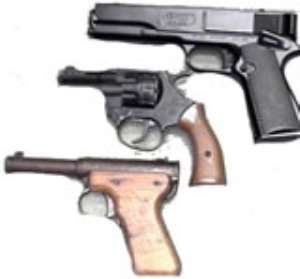 Kwame Adongo, an ex-convict, was on Monday shot and killed by the police during a gun battle between the security agents and a gang of armed robbers at Sepe-Doti in Kumasi.
He was shot below the left and right ribs but other member of the group escaped.
The body of Adongo was identified at the police station by residents of Sepe-Doti as that of an ex-convict and a suspected notorious armed robbery who operated in the metropolis.
Briefing the press in Kumasi on Tuesday on the case, Deputy Commissioner of Police (DCOP) Kwaku Ayesu Opare-Addo, Ashanti Regional Police Commander, said at 0022 hours on the day of the incident, the robbers seized a Golf salon car with registration number AS 7723 Y at gun point from the owner while he was driving the vehicle.
The Regional Police Commander said the victim raised an alarm and also called the police for assistance.
DCOP Opare-Addo said that the people responded to the alarm and wanted to lynch the robbers when the police arrived at the scene.
He said the robbers opened fire at the police and they responded resulting in the death of Adongo and the others fled into a nearby bush.
DCOP Opare-Addo said a search by the police revealed a pump action gun and single-barrelled guns and some ammunition in the vehicle.
DCOP Opare-Addo said that the police have intensified their search for the fugitives and appealed to the public to assist the police to apprehend the criminals.
He also advised pick-up vehicle owners who travel at odd times to seek the help of the Buffalo Unit of the police since they were the target of car snatchers.