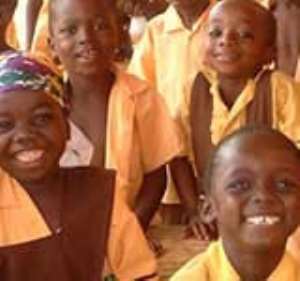 The Ghana Media Programme (G-MAP), a civil society organisation, has called on the government to intensify its efforts in initiating measures and providing resources towards the protection and development of Ghanaian children.
The G-MAP expressed dissatisfaction that despite government's enormous plans for the promotion of children's well being, child abuse and violence continued to affect their progress.
These were contained in a statement signed by Abdul-Kudus Husein, Communication Executive for G-MAP, in connection with "World Day for the Prevention of Child Abuse and Violence against Children".
The statement stressed that "commercial sexual exploitation of children, child trafficking, child labour, the phenomenon of street children and other forms of child abuse and are also affecting the growth and development of our children."
It said child trafficking in particular was a problem confronting all the countries in West African with Ghana becoming a transit point for the illegal activity.
The statement, therefore, called on the police and other security agencies in the country to strictly enforce the Human Trafficking Law (Act 694) and advised individuals, especially parents and organizations to desist from the practice.
It said child labour existed mainly in the informal sector because there were working regulations that sought to check the phenomenon in the formal sector.
The statement expressed worry that a study by the Ghana Statistics Services indicates that a significant number of children engaged in labour practices and that 39 per cent of children between 5–17 years of age were engaged in some form of economic activity.
It, however, commended Ghana for making significant progress in initiating interventions for the survival, protection, development and participation of children in issues bordering them.
The statement cited that Ghana prepared a National programme of Action dubbed: "The Child Cannot Wait", covering the period 1992-2002, which sought to highlight child-related issues and intensified action to give Ghanaian children their right to survival, protection, development and growth.
It praised government and its partners for implementing programmes aimed at identifying, withdrawing, counselling and reintegrating children engaged in child labour.
The statement said there was the need to also eradicate "defilement, incest, harassment, corporal punishment, abduction, indecent assault, threatening, unnatural carnal knowledge and the lack of maintenance of children among others."
It called on individuals and organisations to support the Domestic Violence and Victim Support Unit (DOVVSU) of Ghana Police Service to protect children against abuses.
The day initiated by the Women World Summit Foundation in 2000, aims to create a culture of prevention around the world by encouraging governments and community or society organisations to play more active roles in protecting children.
The day is marked globally, every year to highlight child related concerns and push for the elimination of all forms of abuse and violence against children in the world and this year's event took place on 18 November.