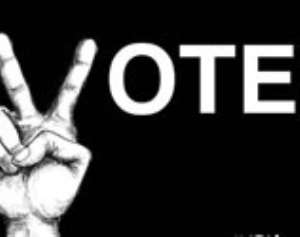 Mr Oduro Boateng, Deputy Returning Officer of the New Juaben South Constituency has urged polling agents to perform their functions diligently during the elections in order not to disappoint their candidates or political parties.
He explained that it is God who anoints leaders and therefore only uses humans to fulfil His will through elections and therefore if anybody failed to perform his or her role for the will of God to prevail, God would not forgive that fellow.
Mr Boateng was speaking at the opening of a training workshop for 200 polling agents of political parties and independent candidates contesting the December elections in the New Juaben South Constituency in Koforidua on Tuesday.
The training workshop forms part of a series of programmes being undertaken by the Electoral Commission (EC) to promote the confidence of the electorate in the electoral process.
It is part of the "Safeguarding the Integrity of the Ballot" project, which is being financed by the Canadian International Development Agency (CIDA) and facilitated by the KAB Governance Consult, a consultancy firm in Accra.
Under the project, the EC would be training 220,000 polling agents that would be taking part in the December polls all over the country to help improve upon their performance at the polling stations.
Mr Boateng advised the polling agents not to under-rate the work they were supposed to do at the polling stations and assured them that if they did their work well, there would be no arguments about the results of the elections and every body would accept it.
He said even where there was confusion, agents who knew that they had done their work well, could confidently approach their protesting party members to assure them that there was no rigging to calm them down for peace to prevail.
Mr Boateng advised the participants to ensure that when they raised any petition at the polls, it would be based on the truth.