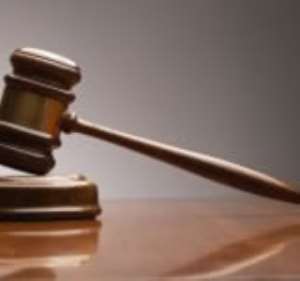 A 32-year-old tutor of Agogo State Senior High School has been remanded in prison custody by the Juaso circuit court for allegedly raping a 16-year-old student of the school.
The victim, who could not bear the stigma surrounding her ordeal attempted to take her life but was rushed to the Agogo Presbyterian Hospital where she is on admission.
Emmanuel Agyare, whose plea was not taken, was said to have lured the victim into his room before forcibly having sex with her and would re-appear before the court on December 1.
Police Detective Inspector Eric Atatsi told the court presided over by Mr Jacob Boon that the victim lived with the complainant, who is a tutor at Agogo Presbyterian Training College, while the accused was also a tutor at the victim's school.
He said earlier this month, the victim bought a pamphlet for GH¢12 from Agyare but could not immediately pay the amount.
On November 18, the victim took the money to the tutor but he refused to collect it and rather asked her to bring the money to his house in the evening.
The prosecutor said at about 1900 hours that same day, the victim, who was on her way to evening classes, stopped over at the accused's house to give him the money.
Agyare after offering the victim a seat, moments later, asked her to sit on his bed so he could remove something beneath the chair, only to force himself on the victim and had sex with her.
After the act, the accused drove the victim out of his room.
The victim narrated her ordeal to the complainant who asked her to inform her biological mother.
On her way to her mother's house, the victim took a chemical believed to be DDT in an attempt to take her life and collapsed immediately she reached the mother's house and was rushed to the hospital where she is currently on admission.
The case was later reported to the Agogo police, who arrested Agyare and subsequently arraigned him.