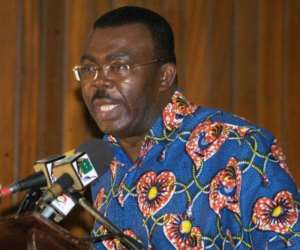 Hon Stephen Asamoah Boateng, Minister for Information and National Orientation (MINO)
The Minister for Information and National Orientation (MINO), Hon Stephen Asamoah Boateng, has appealed to the media to be circumspect in their coverage of the political campaigns and the forthcoming general elections.
He said the media need to be mindful of what they put into the public domain, since it has the potential to create a congenial environment for a peaceful election or create anarchy in the country.
Hon Asamoah Boateng was interacting with News Editors, Radio-TV Presenters, host of Talk -Shows as well as Chief Executive Officers of some media houses at a forum in Accra yesterday to stress the need for peaceful polls in December.
The Minister said some stories about political campaigns and the processes leading to the December polls, posted on some websites portray a wrong picture of what is happening in the country today. He said 'the electioneering campaign is interesting, heated and exciting, but I have not seen anything as dangerous or near as a war situation'.
However, the Minister noted with concern, remarks of some politicians on platforms that have created tension, but was quick to add that the media will have to keep an eye on such politicians for consistencies in their remarks before drawing conclusion, since in the heat of campaigns, a speaker may slip.
Hon Frank Agyekum, Deputy Minister, MINO, said government has provided the Electoral Commission with all its requirements, provided the enabling environment for a peaceful polls, made enough security arrangements to forestall any anarchy and has opened its doors for foreign observers to monitor the polls.
Hon Agyekum said government expects the media to complement its efforts by reflecting on what they publish, even though the media have a duty to report the truth. 'It is the duty of the media to allay the fears of the public with their stories', and appealed to them to ensure that their publications will lead to peace.
Touching on talk-shows and their hosts, he urged them to take control of the programmes and ensure that guests and callers are not permitted to use inflammatory language on air.
Hon Agyekum said the media have been castigated for inciting violence through printing and broadcast of materials deemed inflammatory. It is in the general interest that they tone down their publications and programmes in the light of the current tension around.
The media, Hon Agyekum said, wield a lot of power and should not misuse the power to create anarchy.