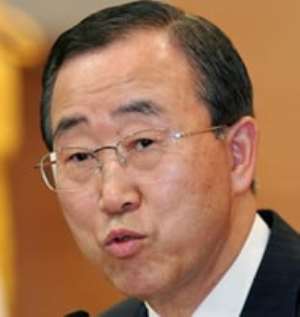 The UN secretary general has issued a report saying that all sides in eastern Democratic Republic of Congo have committed serious human rights abuses.
Ban Ki-moon said both government forces and rebels loyal to Gen Laurent Nkunda had carried out arbitrary executions, mass killings, rape and torture.
The report covers July to November, when the most recent fighting flared.
On Sunday, hundreds of angry Congolese civilians stoned a convoy of UN peacekeepers in North Kivu province.
A spokesman for the UN mission, Monuc, said 20 pro-government Mai Mai militiamen being escorted to Goma were taken away by soldiers during the incident and presented to government officials as rebels.
Meanwhile, a UK-based aid group has been able to get medical supplies to eastern towns for the first time since they were captured by rebels 10 days ago.
A spokeswoman for Merlin said a truckload of basic medication had gone to 20 clinics around Kanyabayonga and Kirumba.
Intelligence services accused
In his 28-page report for the UN Security Council, Mr Ban says the human rights situation in DR Congo is a "cause for grave concern".
He states that elements of the Congolese army and national police "were responsible for a large number of serious human rights violations during the reporting period, namely arbitrary executions, rape, torture and cruel, inhuman and degrading treatment".
Rebels, including Gen Nkunda's Tutsi CNDP and the Rwandan Hutu FDLR militia - some of whose fighters are believed to have taken part in the 1994 Rwandan genocide - are meanwhile accused of perpetrating "serious human rights abuses with impunity".
These include "mass killings, torture, abductions, forced recruitment of children, forced displacement and destruction of [refugee] camps, force labour, sexual violence", the report adds.
The Congolese national civilian and military intelligence services are also accused of making arbitrary arrests, followed by "torture and extortion".
Mr Ban adds that government officers and politicians threatened and detained journalists and human rights campaigners.
Last week, the Security Council approved an additional 3,000 soldiers and police for the UN peacekeeping mission in DR Congo in an effort to prevent the conflict in the country's east escalating.
The recent violence has triggered a humanitarian crisis, forcing an estimated 250,000 people to flee their homes.