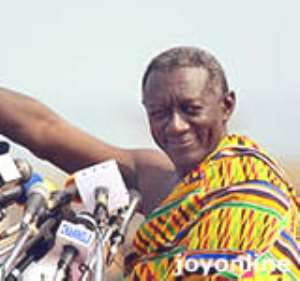 Japan on Monday pledged to abide by its development assistance commitments to Ghana notwithstanding the turmoil on the global financial market.
This was when President John Agyekum Kufuor received the Letters of Credence of the new Japanese Ambassador, Mr Keiichi Katakami, at the Credentials Hall of the Castle, Osu.
Two others, the Ambassador of the Republic of Korea, Mr. Lee Sang-Hak, and the High Commissioner of Trinidad and Tobago, Mrs. Victoria Mendez-Charles, also presented the Letters of Accreditation.
President Kufuor said the country wanted to see more investment in-flows from the Asian economic powerhouse, Japan, to grow the already good relations between them to their mutual benefit.
He described as refreshing, news that, a leading Japanese Company had expressed interest to explore oil in the Keta area of the Volta Region.
President Kufuor acknowledged the enormous support Ghana had received from Japan within the past eight years, especially in the areas of education, roads infrastructure and agriculture.
Mr Katakami, promised that he would do everything he could to attract more Japanese business into the country.
He said he would work to strengthen the bond of friendship and economic co-operation, saying, a "strong wind will be blowing from Japan to Ghana".
At the turn of the Korean Ambassador, President Kufuor recalled how in the 1960s, Ghana and Korea were at par in terms of Gross Domestic Product (GDP) growth but now its per capita income stood at about 20,000 dollars, whilst that of Ghana was around 600 dollars.
He said Korea was a model country, from which Ghana was interested to learn how it achieved its success.
Mr Lee lauded Ghana for political stability and steady economic progress and said he would work to enhance the ties between the two countries.
President Kufuor spoke of the need for more Ghana-Trinidad and Tobago engagement when Mrs Mendez-Charles took her turn.
He said the petrochemical industry, exchange of faculty and students and direct air link were areas they needed to focus on.
Mrs Mendez-Charles promised to facilitate investment flow from the private sector to Ghana.
Earlier, President Kufuor granted audience to the former Chairman of the African Union (AU) Commission, Dr Alpha Omar Konare, at the Castle, and repeated his assurance of smooth hand-over of power to his successor.
"I want to repeat my assurance to the nation and the international community that the Government is all out for free, fair and credible elections."
Dr Konare said Ghana's election success would be a victory for Africa.