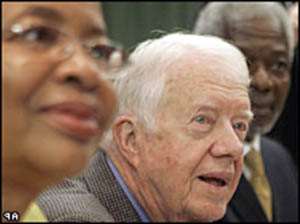 Former US President Jimmy Carter has said the crisis in Zimbabwe is "far worse" than he had imagined. Mr Carter is one of a group of world leaders, known as the Elders, who were refused entry visas for Zimbabwe to assess the humanitarian situation.
He was speaking in Johannesburg, after talks with South Africa's leaders.
Zimbabwe's rivals are to meet on Tuesday in South Africa to salvage a power-sharing deal, South Africa's President has announced.
The head of the country's ruling African National Congress, Jacob Zuma, said the situation in Zimbabwe was beyond "wait and see", adding: "We have got to act and act now."
Strong words
Speaking in Johannesburg on Monday, Mr Carter said: "The crisis in Zimbabwe is much worse than anything we have imagined."
His comments came shortly after Mr Zuma told reporters: "The situation has gone [beyond] where we could say 'wait and see'.
"We are pleading for the leadership [of the ruling party and opposition] for the sake of the people to find a solution that would help them move forward."
Mr Zuma described as an "unfortunate act" Zimbabwe's decision to refuse visas to Mr Carter, former UN Secretary General Kofi Annan and Nelson Mandela's wife Graca Machel, a human rights activist.
The three said the sole aim of their trip - on behalf of the Elders, a group set up to tackle world conflicts - had been to help people in Zimbabwe, and that they had no intention of becoming involved in any political negotiations.
Mr Zuma said the ANC would be sending a delegation to Zimbabwe to push for a political solution to the crisis.
Zimbabwe President Robert Mugabe's Zanu-PF and the opposition Movement of Democratic Change (MDC) are in a power-sharing stand-off following disputed presidential elections earlier this year.
They have agreed to form a government of national unity but been unable to agree on who should fill key ministries.
"Let us find a way to implement the agreement for the sake of Zimbabweans," Mr Zuma said. "We cannot stay with the agreement without implementing it. It is now an urgent matter, people are dying."
These are some of his strongest words so far on the situation in Zimbabwe, the BBC's Peter Biles in Johannesburg says.
Last week, South Africa said it would withhold some $28m of aid until a representative government was formed.
South Africa is the region's power-house and has led the way in efforts to find a resolution in Zimbabwe.