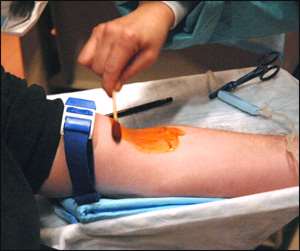 ROTARY CLUB'S active involvement in the delivery of quality healthcare in the country has started attracting commendations from both government and private entities.
The club has over the years provided financial and material support towards ensuring effective and efficient healthcare delivery in hundreds of hospitals and clinics throughout the country.
The Rotary Club of Accra is this time around working to sponsor various activities across the country with the view to attracting more people to donate to the country's blood bank.
More than 4,000 pints of blood is targeted to be sampled from all the regions.
"Rotary is sponsoring various events in the regions to canvass for more blood and sensitise the public on our civic responsibility to donate because the blood you donate today might be the blood to save your own life, your family member's or a friend's life," states Mr. Andrews Jack Dotsey, president of the Rotary Club of Accra.
Speaking at the launch of this year's National Blood Donation Campaign in Accra, Mr. Dotsey said the effort does not only form part of activities marking the club's Golden Jubilee celebration but also a move to intensifying the club's humanitarian services to the Ghanaian community, adding, "I pledge the continuous support and sponsorship of Rotary to the Annual Blood Donation Campaign."
Rotary, he said, has over the past decades made various contributions to Ghana's health sector, hence its preparedness to assist in ensuring that the Blood Bank does not go empty.
"The Accra Rotary Club has just received approval from the Rotary Foundation to begin the construction of a modern Surgical Theatre with equipment, supply of a multipurpose vehicle, an ambulance, generator, a laundry and oxygen equipment for Mary Theresa Hospital in the Volta Region with the support of our Rotary partners from District 1900 in Germany.
"I humbly request the Health Minister to as a matter of urgency post permanent medical doctors to this hospital whilst Rotary continues negotiation with the Medical and Dental Council on the future of our volunteer doctors."
Deputy Health Minister, Gladys Norley Ashietey, who performed the official launch, lauded the club for its continued support.
"The ministry wishes to congratulate the Rotary Club of Accra for their foresight, commitment and dedication towards this humanitarian exercise over the years."
She used the occasion to appeal to the general public to enroll as Voluntary Blood Donors.
Dr. Justina K. Ansah, director in-charge of the National Blood Service said, "One positive aspect of voluntary blood donation is that it will constantly remind donors to lead safe lifestyles.
"We therefore hope to attract more people to start donating and also keep the populace interested in donating blood at least twice a year for as long as they can."
She was thankful not only to the club for its immense support in the delivery of healthcare, but educational institutions, religious organisations and organised community groups also, in the blood drive to save lives.