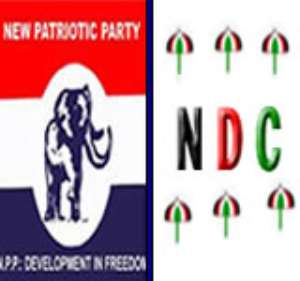 As if to copy Saul the persecutor who converted into Saint Paul in a very bad way, a convert from the National Democratic Congress (NDC) to the New Patriotic Party (NPP) in the Central Region has shown so much zeal to win more souls for the ruling party that he has started pounding everybody who resists his overtures.
Already, Kwaku Abonsam, the NPP latter-day-saint, has turned his venom on his own family members with sticks for associating themselves with the NDC. Kwaku's victims, so far, are his own blood sister, Adwoa Ata Panyin, and her own mother.
The battered and traumatized mother has pleaded anonymity for now. Their crime was that they had refused persistent calls and threats by Kwaku to support his newfound love-kid NPP for a win in the December 7 presidential and parliamentary elections.
Narrating her ordeal to The Heritage at Komenda, in the Komenda Edina-Aguafo Abirem (KEEA) constituency of the Central region, Ata Panyin, a rice seller at Anomako, a suburb of Komenda, recounted that, on Thursday morning, her brother, Kwaku Abonsam, without provocation stormed her selling place and pounced on her.
Ata Panyin speaks: "I had just finished selling and was about to pack when Kwaku, from nowhere, rushed on me. He hit me with his shoes, hands and a stick he was holding."
According to her, Kwaku, after realizing that his sister was near collapse, left her and bolted. He moved on to his mother, of all political opponents, and repeated a similar barbaric act on her.
Kwaku's actions, according to her sister, were not too surmising because he had earlier warned that he was going to beat up any NDC supporter he would meet. She said her mother tried to convince him not to carry out his threat, but he ignored his mother's advice and started with his family.
The NPP activist, after satisfying himself, bolted to nearby villages to seek refuge. A day after he was said to have been seen in town, walking broad chested and bragging that nobody would touch him.
The Heritage later gathered that Kwaku Abonsam was once a staunch NDC sympathizer but fell out months ago after his alleged involvement in some chieftaincy matters in the community.
That, somewhat, is akin to Saul the faithful servant of the Establishment in Jesus' time who, after seeing the Great Vision, parted company with the authorties to join the apostles of Christ. But, unlike the converted Saul who began to preach perfect peace in his bid to win souls for Jesus, Abonsam resorted to usual Saul-like methods after supposedly converting in an attempt to win souls for his new faith: the NPP.
His victims have since reported the matter to the Komenda police substation. They have also visited the hospital for examination and treatment.
But a report Ata Panyin made to the police revealed an interesting episode. The officer in charge of the Komenda substation, Sergeant C. K. Alifui, was said to be the only police officer stationed there.
The newspaper caught up with Sgt. Alifui who confirmed the political assault having been reported to him, adding he had referred the matter to the Elmina district police station for further investigations.