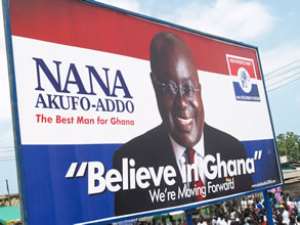 Nana Addo Dankwa Akufo-Addo, presidential candidate of the New Patriotic Party (NPP), said the party was seeking retention in power to enable it continue to offer dedicated leadership for the country.
"We are not into politics because we want to make money, but to offer ourselves to serve and promote development, the rule of law and human rights, where every individual would have the freedom to make constructive criticism and engage in legitimate businesses without fear."
Nana Akufo-Addo was addressing a well-attended rally in Bolgatanga to round-up his four-day campaign tour of the Upper East Region.
He said the NPP in 2000 inherited "empty national confers, a disarrayed economy, an intimidated citizenry and gross human rights abuses from the NDC."
Nana Akufo-Addo urged Ghanaians to not give power to non-performing, inefficient and unproductive people.
He said that if the NPP had the opportunity to rule the country for 19 years as the PNDC/NDC had, Ghana would have reached the middle-income destination it has been yearning for.
Nana Akufo-Addo said the "NDC's campaign of vilification, falsehood and violence" should not intimidate well meaning Ghanaians and urged NPP supporters to vote massively to retain the party in power.
He reiterated that he would ensure the development of the Upper West, Upper East and Northern Regions (three Northern Regions).
Nana Akufo-Addo said he would establish the Northern Development Authority; a body that would coordinate the development of the area through funds from the Northern Development Fund.
Nana Akufo-Addo said the plan for the three northern regions would include the development of education by broadening opportunities within the sector.
This, he said would be attained through effective mass technical and vocational education to supply the local man-power needs in the area, setting up of an effective irrigation system to facilitate all year round agriculture production, establishing factories to process farm produce such as groundnuts and share nuts.
Nana Akufo-Addo said "No longer would it be necessary for young people in Northern Ghana to migrate to Southern Ghana. They should live here in dignity, pride and enjoy the prospects that would come as a result of this plan".
He said that Ghana had developed beyond ethnic persuasions and that he was determined to build a united Ghana where people from every facet of the country would be bonded under one roof, irrespective of their backgrounds.
Nana Akufo-Addo said "No ethnic politicking. Politics of unity and reconciliation is my bedrock".
Mr. Allan Kyeremanteng, a leading member of the party, said due to the prudent economic policies of the NPP Government, it easily sourced funds from donor agencies some of which were grants
and cited a 60 million dollar facility sourced to establish a groundnut processing factory for the three northern regions.
He called on land owners to release land to farmers for commercial farming to boost agriculture and the development of the area.
Mr. Yaw Osafo Marfo, a former NPP Finance Minister, said when the NPP took office in 2000, the country opted for the Highly Indebted Poor Country (HIPC) initiative because there was virtually nothing in the country's coffers.
Dr. Mahamadu Bawumia, running mate to Nana Akufo-Addo, said the presidential candidate had a proven record of quality leadership, competence, and selflessness.
He said the NPP was prepared to compare its records with other political parties contesting Election 2008 and to challenge any claim of mediocrity as being peddled by its political opponents
Other speakers at the rally were NPP parliamentary candidates in the Upper East region, Madam Grace Omaboe, and NPP Regional executive.