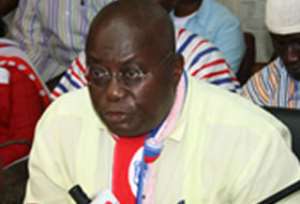 Nana Addo Dankwa Akufo-Addo, presidential candidate of the New Patriotic Party (NPP), on Monday promised to marshal technical and financial resources for oil exploration in the Keta Basin.
Speaking at a rally in Ho on Monday, he said, preliminary surveys and other investigations indicated that there were prospects for both offshore and on-shore oil finds in the Keta Basin area.
He said he wanted to become president to modernise agriculture, provide equal access to education, especially secondary education and improve roads.
Nana Akufo-Addo said he foresaw a Volta Region under him growing and processing mangoes as a big time business among other small-scale businesses.
"That is the Ghana I am promising you in all sincerity," Nana Akufo-Addo declared.
He stressed that his over 30 years in politics had never been "to fill my pocket".
Nana Akufo-Addo said his government would further strengthen local government by making decentralisation work.
He wondered if Ghanaians wanted to go back to what the "years of high inflation and interest rates and jailing of journalists and brutalities."
He was impressed with the attendance and said the patronage of the rally was indicative of the growing acceptability of the NPP by the people in the region.
He advised electorates to cast their vote in civility as the whole world expected nothing but peaceful elections in Ghana, Africa's beacon of hope.
Mr Mustapha Hamid, a member of the Akufo-Addo's campaign team, said a visit through the Upper-East, Upper West and Northern Regions indicated a big shift of support from other parties to the NPP and that Volta Region would be "stranded" if it maintained its support for the National Democratic Congress (NDC).
Other speakers were Mr Alan Kyeremanteng, Mr Osafo Marfo, Mr Jake Obetsebi-Lamptey, all former ministers who contested the primaries with Nana Addo and lost.
Mr Obetsebi-Lamptey said the December 7 election was not about past alliances or allegiances but the future, which would bring hope to all Ghanaians.
Grace Omaboe, a popular television personality, who recently announced her defection from the NDC to the NPP, said the notion that the Volta Region was a prohibited area for the NPP had been quashed by the big and cheering supporters.