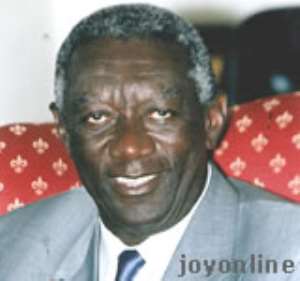 President J.A. Kufuor has apologized to all Liberians for the incident which led to the arrest, detention and subsequent deportation of several Liberian refugees early this year.
President Kufuor said Liberian refugees escaped from war and destruction to seek refuge in Ghana and any unfavorable new condition befalling such people must appeal to the empathy of every one, including himself.
A publication by the Liberia Broadcasting System said the president was speaking to journalists at the Roberts International Airport shortly before he emplaned back home after a two-day state visit to Liberia.
The publication said President Kufuor, however, admonished all West Africans, including Liberians, to respect the rule of law in neighboring countries.
He said while the situations in Ghana involving some Liberian refugees were regrettable, the police were performing their duties to restore law and order.
At the same time, President Ellen Johnson Sirleaf has renewed Liberia-Ghana relations in the interest of sub-regional peace and security.
Also the Liberian Government has conferred upon President Kufuor the Knights of the Pioneers with the grade of Grand Cordon.
The honor which is the Liberia's highest distinction was conferred on President Kufuor by President Ellen Johnson Sirleaf over the weekend at the C. Cecil Dennis Auditorium in Monrovia, as part of programs marking the two day state visit to Liberia by President Kufuor.
The honor, the Liberian government said was bestowed on the Kufuor as a mark of appreciation and in recognition of the sacrifices Ghana made in bringing peace to Liberia. The honor also recounted the relentless role played by the Kufuor and his country, to restore peace to Liberia from the onset of the country's civil conflict. It said Ghana contributed troops under the command of the sub-regional military force ECOMOG.
In a statement during the occasion, President Sirleaf also paid tribute to the people of Ghana for demonstrating true African Solidarity and Fraternity in leaving no stone unturned to restore peace to Liberian.