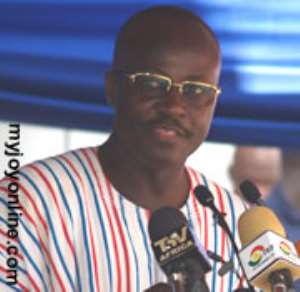 The New Patriotic Party General Secretary, Nana Ohene Ntow has described as coming out "sour grapes" allegations made by Mallam Yusif Isa, former Youth and Sports Minister under the Kufuor administration.
Mallam Isa announced his defection from the PNC to the NDC on Monday, accusing the Kufuor administration of corruption and tribalism.
Mallam Isa was one of the few people from other political parties that were invited by the then newly elected president Kufuor to help form an all inclusive government.
A PNC member, Mallam Isa was appointed a Sports Minister under the new administration but found himself on the wrong side of the law after failing to account for money given to him for a trip to Sudan.
He was found guilty of stealing 46,000 dollars meant as an imprest and payment of bonuses of members of the Senior National Team, the Black Stars, during a World Cup qualifying match in Sudan on February 25, 2001.
But he insisted at a press conference on Monday that his incarceration for causing financial loss to the state, was not a demonstration of political will to fight corruption as the president would want to have the world believe, but rather a demonstration of political vindictiveness.
According to Mallam Isa, the NPP has no moral right to ask Ghanaians to elect them into office after eight years of failed promises.
He accused the party's flag-bearer Nana Akufo-Addo of doing very little to rid the country of the drug scourge, adding Akufo-Addo would rather make the country a safe haven for drug dealers.
He described as a "set up" circumstances that led to his incarceration for causing financial loss to the state.
In an interview on Joy FM to rebut the allegations, Nana Ohene Ntow said the accusations were unfounded and part of an orchestrated attempt to discredit the party.
He challenged the former Youth and Sports Minister to substantiate his allegations or desist from making them.
Nana Ohene Ntow dismissed claims that Mallam Isa was used as a scapegoat in the fight against corruption.
According to him, the fight against corruption was not only through prosecutions of individuals, but also through the building of institutional capacity.
He noted the police, judiciary, the serious fraud office and all anti-corruption agencies in the country had been empowered to help fight corruption.
Meanwhile Vitus Azeem of the Ghana Integrity Initiative, says government has failed in its commitment to fighting corruption.
He mentioned the 2005 audit report, and several other newspaper allegations of corruption against ministers and other public officials which were not investigated adding, government could have done better.
To the extent that Mallam Isa was the only minister prosecuted in eight years of an NPP administration is disappointing.
Story by Nathan Gadugah