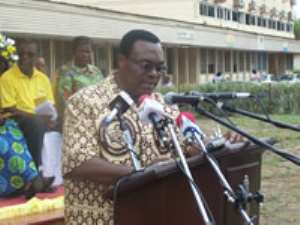 Major Courage Quashigah (Rtd), Minister of Health, on Monday tasked the Ghana Atomic Energy Commission (GAEC) to involve the media in their programmes to allay fears associated with radioactive sources.
Major Quashigah noted that radiation source and ionising radiation were used throughout the world for variety of purposes.
This, he said, included the diagnosis of diseases, treatment of cancers, non-destructive testing of materials and generation of electricity from nuclear power plants.
Speaking at the opening of a month-long regional workshop on Regulatory Control of Radiation Sources in Accra for 15 participants drawn from English speaking countries in Africa, the Minister charged the agency to ensure that hazards of radioactive sources were prevented.
The countries are Ghana, Sierra Leone Tanzania Mozambique, Namibia and Mauritius.
told the participants that to prevent the occurrence of the detrimental effects of radiation, they were to ensure that threshold doses were not exceeded.
The Minister further entreated the participants to avoid the careless use and disposal of radiation sources.
"I will urge you to endeavour to learn useful lessons at the workshop so that on your return to your various institutions/countries you would assist to improve upon the handling of cases.
"In particular, you should ensure that the systems for regulation and expansion, application and monitoring are all full-proof as not to leave any room for carelessness in your states."
Describing the workshop as timely, the Minister sai8d it would enable member states and the International Atomic Energy Agency (IAEA) to acquire inventory of radioactive sources and radiation emitting devices in participants' countries so as to control and manage their usage and movement.
"This will undoubtedly reduce threats caused by illicit trafficking of nuclear and radioactive materials."
He therefore requested IAEA to assist African member states to implement the recommendation of the workshop which was going to reflect on the role of regulators, end users of radiation, control of radioactive sources which would protect the environment and population against nuclear and radiological acts of terrorism.
Professor Yaw Serfor-Armah, Deputy Director General, GAEC, said the workshop was part of the IAEAs nuclear security action plan noting that since September 11, 2001 controlling the use of radioactive sources had become an emerging global issue particularly on the possible use of those materials in terrorist activities.
Prof. Serfor-Armah said the workshop therefore sought to build competence and expertise needed by the national bodies to establish and operate adequate regulatory programme for the safety and security of radioactive sources.
This, he said, included nuclear medicine, radiotherapy and industrial radiology.
According to him the coverage international standards for radiation protection, safety of radiation sources, as well as the structure of legal framework which comprises of legislation, authorisation and inspection would also be catered for during the programme.