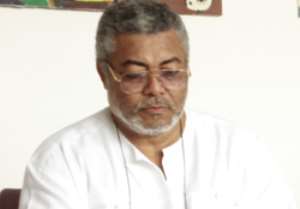 The National Peace Council recently called on former President Jerry John Rawlings because the man is at war with some constituents of the country, an anomaly which in their estimation is inimical to peace in the country especially as we get closer to December 7.
As important personalities we won't condemn their efforts, all though we have reservations about what such a trip can achieve, knowing well the stuff Rawlings is made of.
This is a man who enjoys attention and would not mind stirring the hornet's nest to achieve such publicity.
He has deliberately fouled the political atmosphere to achieve his aim of creating tension in the country.
But all we do when he rants is gloss over it as though the bloke is beyond reproach.
Like the leopard there is no way Rawlings will change his spots. If the highly revered persons thought they were going to get him to have a re-think about his position on Ghana they had a ready answer from his body language.
His set of funny conditions for peace in the country is ample proof that this man has a problem and we should not waste our time dealing with him.
Ghana's peace is something we cannot compromise at all and this, Rawlings should understand now instead of his long stay in fool's paradise.
So if those conditions are not met what would Rawlings do? Will he commandeer troops to descend on the nation?
Giving conditions for peace presupposes the existence of war in the country any way. We do not think of any such war except that Rawlings is at war with himself, a condition he has been in since he handed over power to the New Patriotic Party (NPP).
He spoke about allowing justice to prevail in the country as one of the conditions for peace. If there is any regime in which the rule of law has been allowed to operate without fetters it is now. We are sure about this.
Calling adults who have earned their impeccable reputations after serving the nation for many years is the stock-in-trade of Rawlings and this he thinks we must endure because he is special and  untouchable.
Then comes the issue of the integrity of the polls we are about to go for. Rawlings and his NDC have for some months now, cried wolf about rigging machinery being put in place. 
We have confidence in the Electoral Commission to do a good job of the impending polls and so if Rawlings and his NDC think otherwise let them go to hell and let us savour our peace.
That the revered persons went to him at all is in a way giving some recognition to his unwarranted whining.
We doff our hats for the Interior Minister's remarks that the man's concerns are peripheral. What a way to do dismiss trivialities by a crybaby!
What kind of a personality is this who is always whining about one thing or another? Haba! He and the NDC do not trust the Army, the Police and even the Electoral Commission?
What do they want the rest of the country to do?
Unfortunately when Rawlings sneezes we won't catch cold. In fact the country would move on as though nothing ever happened if he jumps from the tallest building in Accra.
We are giving too much attention to Rawlings as though he is the flagbearer of the NDC. Just what the hell is happening in this country?
Mr. Rawlings cannot hold us to ransom. The forthcoming elections are but an important part of our national calendar but nothing to fret about the way we are doing.
Consider the noise the NDC made about the Anyaa blaze which occurred recently. They organized a press conference as though the government had committed a terrible misdemeanour and even claimed to have recovered some telltale evidence from the blaze scene.
According to them they are not satisfied with the initial report about what happened, suggesting that there were arms in the warehouse, part of what according to them the government has stockpiled for the elections.
Sounds infantile! We do not think that a government with all the state powers at its disposal would hide ammunition and firearms in such a part of the nation's capital when there could be better places to do so.