Nana calls for peaceful elections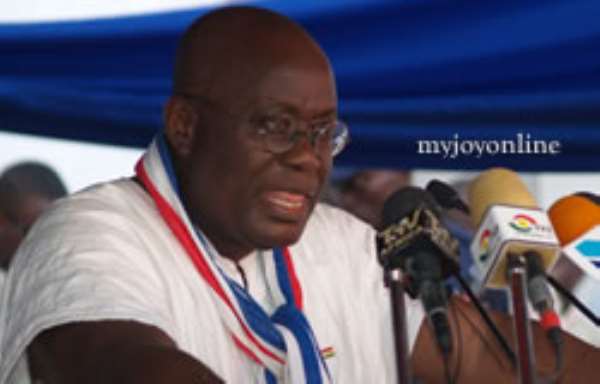 Nana Addo Dankwa Akufo Addo, Presidential Candidate of the New Patriotic Party
Nana Addo Dankwa Akufo Addo, Presidential Candidate of the New Patriotic Party (NPP) has reiterated the need for the conduct of free, transparent, peaceful and credible elections.
He said the National Democratic Congress (NDC) having failed to use lies and other intimidation tactics to get people on their side, were now resorting to violence to ensure that the elections did not take place.
He therefore called on the supporters of the party to remain calm and unprovoked in the face of insults and mudslinging from their opponents.
Nana Akufo Addo was addressing a well attended rally of party faithful in Bimbilla in the Nanumba North District at the weekend.
He said the NDC was also preaching the politics of tribalism and ethnicity which was not good for the unity of the party, adding that, Ghana was made up of several ethnic groups who should be allowed to live in unity in diversity.
"We want the politics of unity and reconciliation not the politics of disunity and tribalism."
He said after 19 years of PNDC/NDC rule, the party could not deliver and Ghanaians should not put their destiny in the hands of incompetent, inefficient and bankrupt leaders who had nothing more to offer them.
The NPP flag-bearer said he would bridge the development gap between the North and the South with the establishment of the Northern Development Fund, which would be used to among others; improve upon the road network in the north, expand educational infrastructure with special emphasis on technical education.
He said the airport in Tamale would also be developed into an international airport city to link the north to the neighbouring countries.
Nana Akufo Addo said agriculture would also be modernised not only to make it the bread basket of north, but the whole of West Africa, adding that, marketing companies would also be established for the purchase and sale of soy bean, groundnuts and shea butter.
Mr Alan Kyeremanten, a leading member of the party said 60 million dollars had been approved for the establishment of a groundnut processing factory for the three Northern regions.
He said the factory which would be sited at Buipe in the Central Gonja District would need about 50, 000 groundnut farmers to feed it, adding that, the factory would thereby provide a lot of employment to the youth of the three regions.