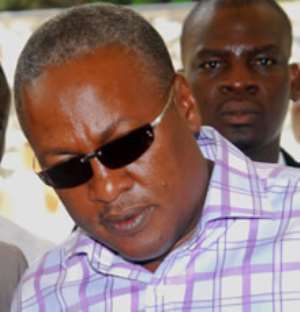 The National Democratic Congress (NDC) said it would accede to a talk that would lead to peace based on fair and just moves, which would not be only a political gimmick.
Mr John Dramani Mahama, Vice Presidential Candidate of the NDC told a forum at the Kwame Nkrumah University of Science and Technology in Kumasi that peace is built on fair play, justice and trust.
"We all want peace during and after the December seven election, but the New Patriotic Party (NPP)'s call on the NDC to meet it to have peace talk, looked like a ploy and if the NDC failed to respond to that call it would be surprising that the NPP would use it as a propaganda to call NDC names," Mr Mahama said.
He said that Professor John Evans Atta Mills NDC Presidential Candidate's agreement to have peace talk with any institution was welcomed and that any talk the NDC would engage in with the NPP, it was necessary that there should be a third party as a moderator, which the two parties would agree to.
Mr Mahama told the forum organized by the UST Tertiary, Educational Institutions Network (TEIN) that impunity, selective justice and impartiality that was being given to them were not anything that would encourage and promote peaceful co-existence.
He said "What is wrong is wrong. To have a situation when one Red Bashiru was involved in a shooting incident in Tamale could be released by the Regional Minister, those who engaged in the arson and killing of innocent people in Gushiegu in the Northern Region could be moving freely and for an NDC parliamentary candidate who was involved in double registration to be jailed in less than 48 hours, whilst an NPP constituency chairman of Ejura-Sekyeredumase caught with over 700 Voters ID cards is resting in bosom of the police for over two months, it is important to be careful of peace talk,".
Mr Mahama said "the December election is about issues that give alternative choice to the electorate and that for any one who has the love of the country at heart would be engaged in telling lies or producing a manifesto that was unattainable, then the one which was not more attractive and could be implemented should appeal to the voter to decide".
He said he has on three public occasions challenged the NPP to show any single public housing unit that it has established any part of the country.