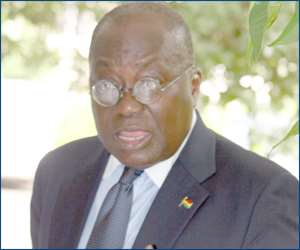 THE PRESIDENTIAL candidate of the New Patriotic Party (NPP), Nana Addo Dankwa Akufo-Addo has advised Ghanaians never to risk entrusting their destinies into the hands of the opposition National Democratic Congress (NDC).
Any attempt to vote for the NDC come December 7, he stated, would mean the country's economy heading for complete destruction after being reshaped and put on the right track by the NPP government, noting that the NDC, before leaving power in 2000, had left the economy in a complete mess.  
The about 20-year rule of the NDC, he indicated, was characterized by what he described as an economic mess and inconsistency to the disadvantage of the ordinary Ghanaian.
Addressing a mammoth rally to round off his tour of the three Northern regions in Tamale, the NPP flagbearer said the next NPP administration would vigorously pursue the agenda of saving more lives in the health sector and strengthening the respect for fundamental human rights of every Ghanaian irrespective of tribe, emphasizing that the present Ghana could not afford to forfeit these opportunities and return to the era of tyranny where there was an upsurge in human rights abuses.  
He appealed to the people of the region to avoid politicians who preach tribal politics and eschew such tendencies of politicking as they sowed seeds of discord among the citizenry and extended an invitation to the people of the region to come aboard to support the development of the country by retaining the NPP government in power in the forthcoming elections.  
"Say no to tribal and chieftaincy politics," he remarked.  
According to him, his vision was a united and a reconciled Ghana, to enable the country to be placed among the developed nations of the world.  Nana Addo debunked the claim that he was a stomach politician, saying he was a renowned and wealthy legal practitioner who entered politics to fight the unjust causes of some governments as well as push for the establishment of true democracy which is currently being enjoyed by Ghanaians.  
To this end he reiterated the need for peace in the region to enable the realisation of the dreams of the country, cautioning residents to be wary of the deceit and lies of the NDC.  
He urged supporters of the party to show respect and composure and not launch any retaliatory attacks in the run up to the elections, promising to open up the three regions of the north to the rest of the country under his administration to foster easy trade.
The flagbearer was accompanied by Alan Kyerematen, Yaw Osafo Maafo, Jake Obetsebi-Lamptey, chairman of the NPP Campaign Committee, Stephen Ntim, and other high-ranking members of the party.  
Nana Addo is expected to pay courtesy calls on some traditional rulers at Bimbilla in the Nanumba South district and proceed to the Volta region.
From Stephen Zoure, Tamale