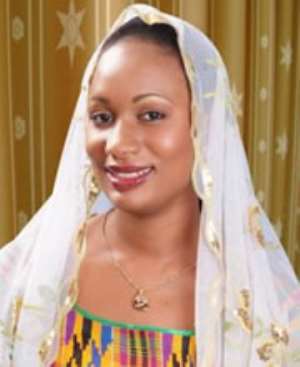 It was an emotional moment last Wednesday when Samira Bawumia, wife of NPP's vice presidential candidate, Dr. Mahamudu Bawumia paid a visit to the National Chief Imam, Sheikh Osman Nuru Sharubutuat at his residence.
For Mrs. Samira Bawumia, it was a return to a place where she "lived and was thought good morals", but for the Chief Imam, it was the return of his granddaughter. "This is not a courtesy visit, it's a return to home," the Chief Imam said.
If Samira had not come home, he said, he would have gone for her.
The Chief Imam said he was filled with pride that one of his granddaughters could become the 2nd lady of the country.
"I pray that you attain the dreams and aims that you have set for herself…Have faith in God, and he will give you all your desires….may God let you move forward, so that Ghana would experience peace," Sheikh Osman Nuru Sharubutuat said in a short prayer.
Though the National Chief Imam said he wished his granddaughter would become 2nd Lady, he advised that it is God who determines who should lead or be a king.
He therefore urged Ghanaians, no matter which tribe one is from, to ensure that they live peacefully and harmoniously. "I pray that Ghana becomes like Mecca, where there is always peace," he said.
With tears flowing from her eyes, Mrs Bawumia praised and attributed her wellbeing to the prayers and advice of the National Chief Imam. She said the prayers that the Imam had for her in her childhood is bearing fruits.
"God is doing great things in my life and I know it's because of your prayers," she said to the National Chief Imam.
She asked the National Chief Imam and other Muslim leaders to continue the prayers so that she can become 2nd Lady of the land.
"As you have always done, I want you to pray for me, because if I attain the position of the 2nd Lady, I would be a role model to all Muslims," she said.
Mrs. Bawumia took time to elaborate on some of the achievements of the NPP government and said, "My husband and Nana Akufo-Addo would continue and build on it."
The school feeding programme, the free antenatal care, free health care, she said are the best social policies ever implemented by a government.
"What we want is your prayers for peaceful elections and your granddaughter would be the Second Lady," she said.