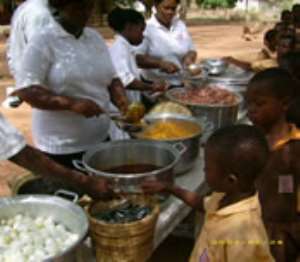 Government has released an amount of GH¢160,408.95 to the Upper West Region for the implementation of the capitation grant for the year 2006/7, Mr George Hikah Benson, Upper West Regional Minister, has announced.
He said that showed the level of government's commitment to education development and called on people in the region, especially Muslims to take advantage of the interventions to invest in their children's education.
He reminded Muslims that Prophet Mohammed throughout his life encouraged his followers (Muslims) to seek knowledge, no matter the distance and ensure that the knowledge was beneficial to society through the development of families, communities and nations.
Mr Benson made the call in a speech read on his behalf at the Annual Conference of the Association of Nadowli District Imams/Muslims (ANDIM) at Nadowli on Saturday.
He said the development of the human resource had been the vision of the government, hence the introduction of the capitation grants and school feeding programmes to make education affordable and accessible for all.
He urged Muslims to take advantage of the interventions by sending their children of school going age to school and ensure that they stay to complete at least basic education.
Mr Benson expressed his regret about the low and falling moral standards among the youth in the country and appealed to religious leaders to instil the values of Islam in them to help address the situation.
"I am aware of the enormous strides the ANDIM had made in this regard and I wish to urge you to do more about some of the cultural practices that affected development, especially the elopement of school girls that was still more pronounced in your district", he said.
"Use the association to foster real unity among Muslims in the district. We must hold on to the Islamic principles of brotherhood as enshrined in the scriptures and endeavour to bury all our differences", Mr Benson advised.
He urged Muslims to conduct themselves properly during the elections and also continue to pray to God to grant Ghana peaceful and incident free elections.
Mr Dansieh Musah, Secretary of ANDIM said the association sought to improve the welfare of its members and the education of Muslims children as well as promote peaceful co-existence in the communities.
He said the ANDIM would establish Arabic/English Schools to help in the development of education while efforts would be made to also establish farms to produce to help the needy.