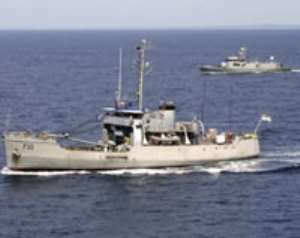 Senior Naval Officers have called for the immediate passage of the legal framework, which will empower them to enforce law and order at the sea.
The framework when passed by Parliament will assist them to check oil thefts on the high seas by organized criminals, diversion of goods destined for the oil rigs, as well as check on militant locals who may disrupt onshore installation under the pretext of securing more oil wealth for their communities.
In a communiqué issued on Friday at Takoradi, at the end of a five-day Senior Naval Officers' Convention 2008, the officers called for the review of the Ghana National Maritime Policy and Maritime Strategy to check advanced fraudsters popularly known as "419" who may dupe people and businesses.
The Convention was on the theme "Enhancing maritime security in Ghana's maritime domain for socio-economic development".
The communiqué stated that the Ghana Navy should be resourced with appropriate equipment, adequate platforms and funding to enable the service to perform its traditional roles effectively and efficiently.
It further noted that if the Ghana Navy is resourced, it will be well positioned to address emerging maritime security challenges.
Some of the challenges identified by the officers and listed in the communiqué included non-existence of a civilian airbase in Takoradi to handle extended oil field operation, inadequate port facilities at the main operations-base in Takoradi to handle heavy equipment and materials for oilfield operations as well as inadequate helicopter service in Ghana to cater for oil field operations.
The communiqué recommended the promotion of maritime domain awareness and increase stakeholder collaboration to ensure safety and security at the sea, pursue sub-regional maritime cooperation to promote safety and address maritime security issues.
It further stated that Ghana's oil find can be beneficial to the citizens only, if the resource was protected and the possibility of future oil discoveries will enhance the chances of the country.
Mr Kwasi Blay, Deputy Western Regional Minister who officially closed the five-day convention said government was leaving no stone unturned to help equip the Ghana Navy and sufficiently resource it to play its roles effectively.
He commended the Naval High Command and the individuals who contributed in diverse ways in planning and executing the convention and making it a success.
He reminded all of the importance of the December 7 election and said "As a nation, we need to show foresight and commitment to fairness as in the past, in order to ensure a peaceful election.
"Let us therefore remain united as we go to the polls and we must hold on to the principle that have kept the nation together," he said.