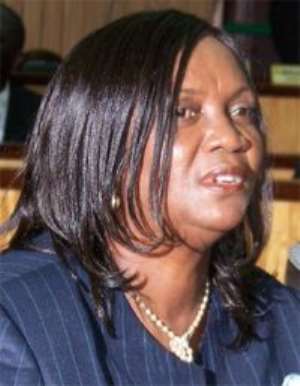 Mrs Justice Georgina Theodora Wood, Chief Justice (CJ) on Friday charged women judges in Africa to work hard, by going beyond the call to duty "to help our women to access justice."
This, she said, meant that they should ensure fewer adjournments, promote rather than pervert the cause of justice, or dismiss cases on unjustifiable grounds.
Mrs Justice Wood made the call when she closed the Partners for Gender Justice (PGJ) Colloquium in Accra on "The Role of the Judiciary in Promoting Gender Justice in African Countries". About 60 Judges drawn from all over the continent attended.
It was organised by the PJA made up of the Judicial Service of Ghana, the United Nations Development Programme (UNDP), United Nations Fund for Women (UNIFEM), International Legal Assistance Consortium (ILAC), International Association of Women Judges (IAWJ) and Brandeis University.
The three-day colloquium, a follow-up to previous PGJ meetings held in Liberia; October 2006, South Africa; March 2007, Dakar; January 2006, and Accra October 2007, offered participants the opportunity to build on the momentum generated by these colloquia.
It brought together representatives of the judiciaries from 15 African nations, in addition to national, regional and international stakeholders, to explore the role of the judiciary in promoting gender justice.
While commending the participants for the good work done, Mrs Justice Wood underscored the need for women judges to continue "to mainstream gender perspectives not only into the development process, but also into all aspects of the work we do."
She said; "At the implementation stage of programmes and policies, the application of gender mainstreaming will ensure that both men and women participate equally in the decision making process and are treated with equal respect and given opportunities".
Mrs Justice Wood expressed regret that in spite of constitutional provisions and special laws to promote gender justice, the status of women, particularly vulnerable women, and their children, continued to be a cause of concern.
She urged women judges to help remove the impediments that confronted women in their struggle to access justice, in order to make life a little kinder to them.
"The amazing fact is that in so doing, they also serve the needs of the many other people whose lives are intrinsically bound to theirs, namely, men and children," the CJ said.
She urged participants to strengthen and deepen the networks and associations formed, adding, "We must sustain the dialogue for an improved access to justice for all women, and continue to pursue policies and practical solutions to ensure that the strategies developed at this colloquium are workable".
Mrs Shelby R Quast, Director General of ILAC, observed that an independent and effective justice sector was fundamental to security, particularly in post-conflict and transitional societies where opportunities for criminal activities and impunity were rife.
While pointing out that a weak justice sector was a breeding ground for corruption, discrimination, violence and impunity, Mrs Quast was of the view that a justice sector that comported with international human rights standards, including gender equality, supported peace and stability, and promoted public trust.
The participants deliberated on; Gender Equality in Accessing and Serving on the Courts; Special Courts and Traditional Justice: Promoting Equality and Gender Justice; Regional and International Standards for Gender Justice; and Supporting Equality and Gender Justice in the Judiciary: Highlighting NGOs, among other topics.