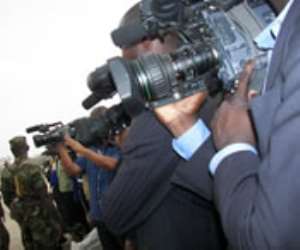 The Eastern Regional Police Commander, Assistant Commissioner of Police (ACP), George Anko-Bil, has urged media personnel to help promote peace in the country by guarding against reporting on inflammable speeches made by politicians.
He said the media would be doing the country a lot of good if they could use their "gate-keeping" roles effectively by not reporting on negative speeches by politicians, now, during and after next the December general polls.
Mr Anko-Bil, who is also the Chairman of the Regional Election and Security Task Force was interacting with media personnel at a press soiree in Koforidua on Friday as part of improved relationship between the police and the media.
He advised media personnel to let their patriotism supersede their personal partisan and personal agenda.
"Do not do anything that will make us to become refugees in other countries after the polls."
He said media personnel had crucial roles to play in ensuring peaceful and orderly elections next month, adding; "It is our responsibility to reduce tension in the society instead of inflaming passions".
Mr. Anko-Bil observed that a lot of Ghanaians were not well-versed in the electoral process and as a result they do create unnecessary tension in the society and said it was the responsibility of media personnel to educate the public on the electoral laws.
"It is our collective responsibility to let the people know that this year's election is not about life and death and not about war".
"We have done four successful elections: what is so special about this year's one for the unnecessary tension to be created in the society," adding that it is ignorance that is "killing us".
Mr Anko-Bil said the police were up to the task for the elections and fully equipped with enough personnel to handle issue that might crop up, even at "flash points".
He warned that much as the police would avoid arrests, it shall not countenance any misbehaviour from the electorate, especially the "so called macho men".
The police commander said the call by political parties for their supporters to lurk around polling stations after casting their ballot could be a recipe for chaos and advised that people go home and relax after voting.
Mr. Edmund Quaynor, Acting Regional Chairman of the Ghana Journalists Association (GJA), gave the assurance that the media would do their best to contribute their quota towards peaceful elections.