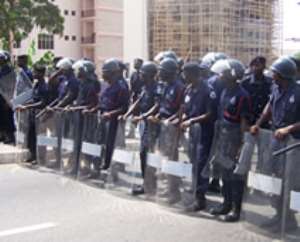 Security officials in the Tema metropolis on Saturday embarked on a two-hour route march through the principal streets of Ashaiman and Tema in preparation towards the December 7 general elections.
Participants were drawn from the Ghana Police Service, Ghana National Fire Service, Ghana Immigration Service, Custom Excise Preventive Service (CEPS) and the Military.
Fully dressed in their respective security regalia, the personnel numbering about 300 sang motivational songs to rekindle their spirit to live up to the challenge of protecting the country's democracy and peace.
Led by Deputy Commissioner of Police (DCOP) John Kudalor, Tema Regional Police Commander, the officers started the march from the Mandela Park in Ashaiman at 0600 hours through the Tema General Hospital road to the Tema Community One police station.
DCOP Kudalor congratulated personnel for participating in the exercise and asked them to exhibit the same commitment and zeal during the discharge of their duties.
He charged personnel not to interfere in the electoral process but should rather ensure that the electorates exercise their franchise in peace at the various polling stations.
Mr. Kwabena Taah Korang, Tema Regional Fire Officer gave the assurance that the security personnel would professionally perform their duties before, during and after the election to the satisfaction of civilians.
Mr. Korang also pleaded with the security personnel to comport themselves at the polling stations in order not to cast a slur on the security services.