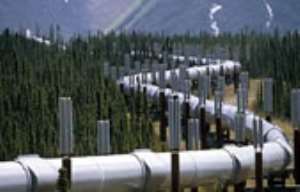 Beaches near the West Africa Gas Pipeline (WAGP) have been defaced with refuse, defecation and decomposed animals threatening the smooth operations of the pipeline.
Apart from the activities of residents on the beaches, refuse deposited into the sea by crew members of vessels plying the country's coast and fishermen has led to the accumulation of huge volumes of clothing and plastic bottles on the beaches.
Mr. Yaw Amoyaw-Osei, Executive Director of Green Advocacy Ghana (GreenAd), an environmental non-governmental organization, has therefore appealed to district assemblies within coastal communities to intensify their refuse collection to curb the pollution.
He made the call on Friday when he led about 50 community members and personnel of Zoomlion Ghana Limited in a six-hour clean-up exercise at the Bankuman beach near the WAGP in Tema Manhean.
The exercise, second in a month was organized by his outfit and sponsored by Unilever Ghana Limited and the West Africa Gas Pipeline Limited.
Mr Amoyaw-Osei said apart from hindering the smooth operations of the gas pipeline, the pollution could lead to an outbreak of communicable diseases among the communities along the coast of Tema and Kpone.
He also called on the Ministry of Fisheries and other stakeholders to tax vessels plying the country's coast and the proceeds used to clean the beaches.
Mr. Courbet Philippe, an officer at the French Embassy who was at the site to assess the extent of pollution and what the embassy could do to improve the situation said it was unfortunate that the beach has extremely been polluted.
Mr Philippe, who is the Agricultural and Environmental Research Projects Coordinator of the College of Agriculture and Consumer Sciences at the University of Ghana, said the embassy would collaborate with the NGO to adopt and clean the beach to serve as a tourist resort.
He said the exercise was in line with the embassy's campaign against the use of plastic bags noting that plastic products collected at the beach, especially water sachet rubbers would be recycled.
In order to keep the environment clean, he advised on the use of paper bags, baskets and fabric bags for shopping instead of polythene bags which were gradually engulfing the country.