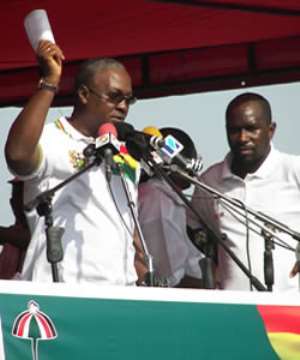 National Democratic Congress, NDC, vice presidential candidate, John Dramani Mahama, has tasked members of the party to abstain from any form of violence.
He said the change the party sought in the December elections to run national affairs would come, however, it would be by the will of God, "who gives power", and not by violence, insults or a resort to anything negative.
The Bole Bamboi MP was addressing thousands of party youth at the Freedom and Justice Park, Kwame Nkrumah Circle in Accra on Saturday after a 'Walk for Change' programme organised by the leadership of the NDC youth.
Party youth from across the capital participated in the walk, with another one scheduled for the Ashanti regional capital, Kumasi on Sunday.
John Mahama said God had wrought victory for the party already, and what would be required of party supporters and the youth in particular, would be their vigilance on voting day so that victory is not stolen from them.
"We want genuine peace, don't retaliate any offence because it is God who gives power. Many do not know this, but go cast your vote early, and be vigilant."
Responding to claims that the NDC had turned down peace overtures from the New Patriotic Party, he said the NDC was not interested in mere public 'showmanship' of peace, declaring the readiness of the party to sit with the NPP to discuss ways of ensuring peace before, during and after the December polls the very moment the NPP showed it was ready to commit to genuine peaceful processes rather than mere pious declarations.
John Mahama said the NPP government was employing state institutions against its opponents, and reminded all that there can be no real peace where injustices abound.
He said when about a month ago, the NDC parliamentary candidate for Kwabre West Constituency of Ashanti was alleged to have committed an electoral fraud, he was, in a manner "the Ghanaian judicial system has never been known to work so fast," "convicted and imprisoned within 48 hours."
The Offinso Circuit Court sentenced Pius Poku Boateng, NDC parliamentary candidate and also a teacher, to 12 months imprisonment with hard labour for double registration.
John Mahama said a more grievous offence, since 2004 when known NPP followers stormed a polling station in the Pru Constituency in the Brong Ahafo Region to beat up polling officials and 'seize' ballot boxes, is yet to be prosecuted. The culprits have not even been arrested, he said.
"You can't have peace if there is no justice," he said, assuring that "As soon as they show a genuine commitment to peace, I will be the first to commit our party to talks."