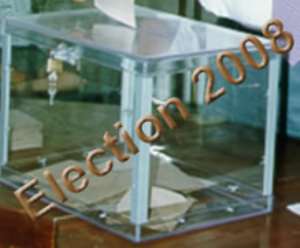 Mr. Sarfo Kantanka, Deputy Director of the Electoral Commission (EC) in charge of operations, on Thursday assured Ghanaians that the body had initiated adequate measures to avoid shortage of elections materials on December 7.
He said the EC had printed enough materials for all constituencies and that any complain of shortage would be "artificial".
Mr. Kantanka gave the assurance in Tamale at a forum organised by the EC for parliamentary candidates in the Northern Region to inform them on the preparations so far made by the Commission for the 2008 Elections.
The event dubbed: "Safeguarding the integrity of the ballot" was funded by the Canadian International Development Agency (CIDA).
It sought to provide a platform for the candidates to raise issues and concerns about the elections and to find out how best they could collaborate with the EC to make the elections peaceful.
Similarly, they would build consensus on the way forward to ensure that everybody had faith in the elections.
Mr. Kantanka urged all political parties and their polling agents to effectively monitor the elections to ensure that there was no artificial shortage of materials.
He explained that artificial shortage of electoral materials had always been the creation of presiding and returning officials, who sometimes used their own discretion not to carry all the materials to polling centres.
Mr. Kantanka said that the EC had warned all electoral officials to send all electoral materials, especially ballot papers to the respective polling centres to avoid shortage of election materials and advised polling agents to ensure that enough materials were available.
The EC official, who facilitated the programme, said that not all persons who had applied for votes transfer would have the request granted.
Mr. Kantanka explained that some of the requests had no justification and that the EC would review the applications and to approve the justified ones and stressed the need for all to discourage "last minute" votes transfer so as not to create unnecessary suspicion for the political parties.
Some of the parliamentary candidates complained about alleged intimidation of opposition political parties in some constituencies by some members of the ruling party and expressed fears that if nothing was done about it the situation would be worse on voting day.
They commended the EC for organizing the forum and appealed for measures to ensure that vehicles belonging to parliamentary candidates and District Chief Executives and other government functionaries were not used to convey electoral materials to and from polling centres since the practice could engender suspicion.
Some of them complained that some polling centres were close to party offices and signboards and advised that either the party office be removed or signboards repainted before voting day to prevent unnecessary advantage to such parties.