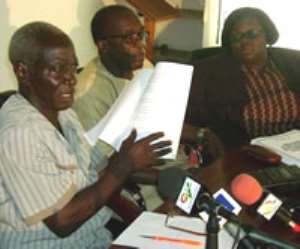 Voters who did not meet the required two months residency in their new constituencies before transferring their votes can have them reversed, Dr Kwadwo Afari-Gyan, Chairman of Electoral Commission (EC) announced in Ho.
He said laws on voter's transfer were explicit that the applicant must have been resident in the recipient constituency for at least two months, and to prevent manipulations through bulk voters' transfers the EC gave a directive to discourage transfers across adjacent constituencies.
Dr Afari-Gyan was addressing a workshop on "Safeguarding the Integrity of the Ballot" for Parliamentary Candidates in the Volta Region.
It is being organised by management of KAB Consult, an NGO for Good Governance Advocacy, with support from Canadian International Development Agency (CIDA).
He was reacting to allegations by Mr James Klutse Avedzi, National Democratic Congress (NDC) incumbent Member of Parliament and Parliamentary Candidate for Ketu-North Constituency during an open forum at the workshop.
Mr Avedzi alleged that about 16 people resident at Anlo-Afiadenyigba in the Keta Constituency had transferred their votes to Atiteti in the adjoining Ketu-North constituency.
Dr Afari-Djan noted that party activists including Parliamentary Candidates induced voters to apply for the Returning Officers to process the transfers.
He reprimanded Mr Avedzi for waiting until the forum to make the allegation adding "the EC do not want a situation where some voters would be disenfranchised at the last moment."
Dr Afari-Gyan said those who willingly and knowingly engaged in such sloppy transfers, including EC officials could be sanctioned under the law.
"Let us all be committed to doing the right thing to avoid making things difficult for all of us," he added.
Dr Afari-Gyan educated the 29 Parliamentary Candidates on inbuilt checks in the election process that should discount any thoughts of rigging.
Miss Luarentia Kpatakpa, Volta Regional Director of EC said series of training sessions had been scheduled for Election Officials, journalists, Parliamentary Candidates and Party agents towards transparent Election 2008.