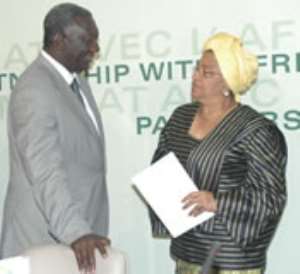 President John Agyekum Kufuor is to be decorated with Liberia's highest national award "for his role in the restoration of peace, democracy and stability in that country."
The President left Accra on Saturday morning for Monrovia, Liberia, for a two-day official visit, at the invitation of Liberian President Ellen Sirleaf Johnson.
A release signed by Mr. Andrew Awuni, Press Secretary to the President and Presidential Spokesperson, said following Liberia's civil war, Ghana contributed greatly to peace keeping missions under the watch of President Kufuor in his capacity as ECOWAS chairman.
It also indicated that several peace talks were initiated and held in Ghana, leading to the return to normalcy in Liberia.
President Kufuor is expected to return to Ghana on Sunday.