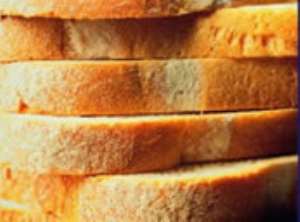 The Food and Drugs Board (FDB) has advised Ghanaians to be cautious about the bread and palm oil they consume.
This, the board explained, was because the majority of bakers in the country continue to use the banned "Potassium bromids" in the preparation of bread, while others use chalk and alum to whiten it.
For the palm oil, the Board said, industrial dye is used to make it look redder.
In the Kumasi metropolis, potassium bromide is coded "Paracetamol" while in Takoradi it is "Something", and sold to only those who know and use the password.
Potassium bromide is a chemical that enhances the flour dough. For the fact that it causes cancer, it has for the past four years, been banned worldwide.
Making these revelations on Friday at a day's workshop by the Board on 'Food Adulteration and Counterfeiting', the acting head of the FDB's Inspectorate Department, Kofi Essel said: "We are worried because we do not know at what point potassium bromide is used by bakers".
He said personnel of the board had been taking samples of flour dough from bakeries in some parts of the country but no trace of potassium bromide had been detected. However, when some loaves of bread were tested, they were found to contain the chemical.
Mr Essel stated that groundnut paste and honey had also been adulterated with cassava flour and caramel respectively while curry powder is also mixed with maize flour.
He said at restaurants and other food joints, jollof rice was being mixed with bixaseed while saccharin was being used in maize porridge and sugar bread instead of sugar.
Mr Essel said following the sensitive nature of the issue, the board would meet with flour users on November 25, for discussions and the need to eliminate potassium bromide.
Mr Essel also cautioned consumers of the local gin (akpeteshi) saying that rusty nails, neemtree leaves and marijuana were being used in distilling it so as to make it strong.
He said it was time some bakers and food providers were prosecuted to serve as a deterrent to others.
Mr Joseph Bennie, Northern Sector Zonal officer of the FDB, disclosed that ground pepper had also been adulterated with ground pear seeds and appealed to the public to be wary of its usage.
He expressed worry that though most of the traders themselves were aware of the adulteration and the inherent danger they did not care.
Stating that the FDB alone could not fight the menace as it is constrained in terms of human resources among others, he appealed to all citizens to help fight the adulteration and counterfeiting of food.
He urged the public to report anyone involved in such an act to the board or any police station for action.
Mrs Comfort Akotua, Chairman of Flour Users Association in the Ashanti Region, in an interview said, she got to know of the use of the potassium bromide at the workshop.