Everybody Knows Dracula Lives on Human Blood!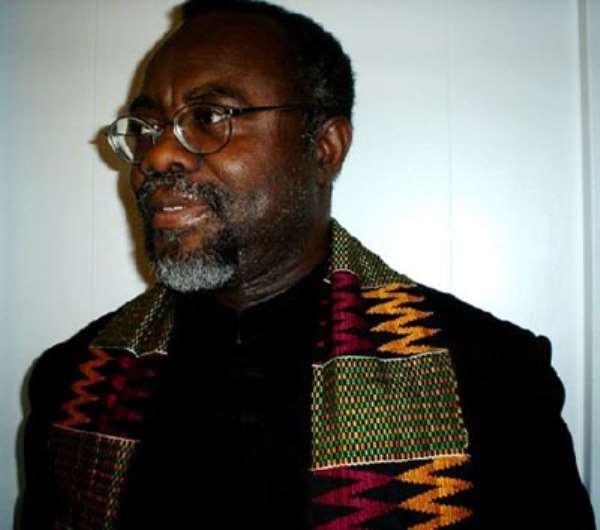 A Daily Guide story bylined Halifax Ansah-Addo reports of the longest-reigning Ghanaian dictator telling a group of visiting Nigerian university students how the supposedly charismatic leader of the so-called Armed Forces Revolutionary Council (AFRC) got former Army Commander Neville Alexander Odartey-Wellington summarily executed by some junior-rank officers of the Ghana Armed Forces.
This is not the first time that Flt.-Lt. Dracula has held students as a captive audience in his Ridge mansion. Before his latest confessional lecture, the founding-proprietor of the opposition National Democratic Congress (NDC) and his wife had, reportedly, told a group of students at the same residence – we hear the bloody couple has about a dozen residences dotted across the country – that neither sitting President John (Kofi Diawuo) Agyekum-Kufuor and New Patriotic Party (NPP) Presidential Candidate Nana Addo Dankwa Akufo-Addo, a former Attorney-General, was qualified to practice law in Ghana.
The obvious implication here, of course, was that Messrs. Kufuor and Akufo-Addo were at best professional fraudsters and, at the worst, shyster barristers and outright criminals. Back then, as we vividly recall, Prof. John Evans Atta-Mills, Dracula's handpicked perennial presidential candidate, had to sheepishly intervene to put his master and the latter's dame in their rightful place.
And so it is quite amusing, actually very annoying, to hear Dracula threatening to accord the same barbaric and brutal treatment meted Gen. Odartey-Wellingotn, during the AFRC mutiny, in 1979, to Nana Akufo-Addo. And Dracula's beef? That Nana Akufo-Addo has dared to describe Dracula for what he truthfully, honestly and incontrovertibly is: A Yor-ke-Garri-Crediting Air Force pilot who bestially shot his way to the seat of power and the immitigable exploitation and destruction of the Ghanaian economy for some 19 protracted years.
Interestingly, Dracula, himself, does not dispute the foregoing factual observation, except to childishly claim that telling the unalloyed truth about the virtual and perennial nuisance that he has made of himself, both as a Ghana Air-Force pilot and military cum faux-civilian dictator, renders Nana Akufo-Addo prime grist for a "Wellingtonian" blood bath. Perhaps he had better be warned that if Dracula makes the same fatheaded judgmental error that he, evidently, made with the life of Gen. Odartey-Wellington on Nana Akufo-Addo, our reciprocal response would not simply stop at the liquidation of the last and youngest member of the Dracula clan. And, perhaps, we also need not warn him of the exceptionally poisonous and fatal contents of Nana Akufo-Addo's blood for the gustatory constitution of Dracula.
Obviously, with withering defeat staring his handpicked NDC presidential candidate in the face, as well as the specter of the NDC getting stuck on the margins of opposition politics, Dracula has decided that intimidation is the best way to guarantee the survival and fast-waning fortunes of his P/NDC. And this is at once rather infantile and outright pathetic, indeed. For had he bothered to compare notes with the CPP journeymen and women, Dracula would have promptly learned to his sobriety that no scion of the Danquah-Busia Tradition can be intimidated by anybody on the Ghanaian political landscape, not even the Butcher-of-Dzelukope.
What he glaringly, and perhaps conveniently, failed to tell his captive audience of visiting Nigerian university students, at least as can be readily gleaned from the Daily Guide story, is that having savagely murdered Gen. Odartey-Wellington, as we vividly recall, the AFRC Abongo Boys were also forced to celebrate the unquestionably heroic life of the slain general by according the latter a state burial with full-military honors! Now, somebody, tell me: wasn't the latter, in of itself, a palpable admission of guilt on the part of Dracula and his ilk? In any case, who cares about whatever reasons are advanced to justify the dastardly murder of Gen. Odartey-Wellington? Are any such reasons apt to cause the resurrection of the slain man or simply mollify the guilty conscience of a congenital butcher and a psychological basket case out to morbidly justify his own sociopathic personal culture?
It was also quite refreshing to hear Mr. Probity and Accountability regaling his captive student audience with the story of him stealing food meant for Ghana's President, called Head-of-State then, from the kitchen of the State House, where Dracula's mother worked. The thief-storyteller, himself, admits that even his own mother had not been approving of such behavioral criminality. Interestingly, though, such juicy, albeit patently lurid, revelations do little to mitigate the traditional stereotype of kleptocratic proclivities associated with the people from among whom Dracula hails. And here again, his morbid attempt to justify such culinary criminality, a felony, to be certain, must give every registered Ghanaian voter food-for-thought, particularly those hitherto misguided prospective voters intent on casting their ballots for the theft-ridden National Democratic Congress.
Needless to say, it begins to make perfect sense that Dracula would have such professional thieves as Messrs. Tsatsu Tsikata, Kwame Peprah, Dan Abodakpi and Selormey as key players of both his cabinets and governments. In brief, what we are witnessing here is the irreparably conflicted character of a self-tormented man who is both paradoxically self-righteous and deeply repulsed by his own unsavory and apparently incurable criminal mode of existence. He may, indeed, be his very own worst enemy, particularly if he also happens to believe that regaling the visiting Nigerian university students, among a host of other foreign guests, with his life of infractions and outright criminality would endear Dracula to the outside world.
What he actually achieves with such jaw-dropping tales of abject criminality is set his guests wondering about the curious level of Ghanaian national intelligence that allows the morally basest among us to, literally, hijack our otherwise salutary political culture and unconscionably, as well as systematically, stagnate, as well as strangulate, our clock of national development for a whole generation. In any case, what has Dracula to say about the most recent media report of an unidentified man having been brutally murdered in his so-called yacht-house at Vume, near Sogakope, in the Volta Region? He cannot facilely claim to be wholly unaware of significant goings-on on his own country estate. Or could he?
*Kwame Okoampa-Ahoofe, Jr., Ph.D., is Associate Professor of English, Journalism and Creative Writing at Nassau Community College of the State University of New York, Garden City. He is the author of 18 books, including "Dr. J. B. Danquah: Architect of Modern Ghana" (iUniverse.com, 2005). He is also currently working on a collection of essays and articles titled "The Life and Times of J. J. Rawlings." E-mail: [email protected]