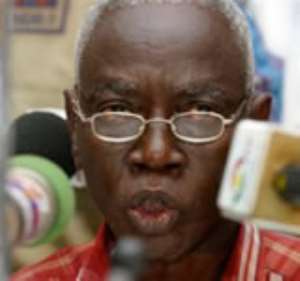 Dr Kwadwo Afari-Gyan, Chairman of the Electoral Commission (EC), on Friday said arrangements have been made for District Officers of the Commission to verify slips on ballot papers before they are rolled out.
He said they would check for the order of placement of candidates and number of ballot papers ordered for the constituencies under their various districts to avoid hold-ups on December 7.
Dr Afari-Gyan was addressing a workshop on "Safeguarding the Integrity of the Ballot" for the first batch of parliamentary candidates in the Volta Region in Ho.
KAB Consult, a non-governmental organisation on good governance advocacy was facilitating the programme, going on throughout the country, with support form the Canadian International Development Agency (CIDA).
Dr Afari-Gyan said the policy of the EC was to engage only people thought to be "sufficiently neutral" to administer the election process, but expressed regret that some party officials were putting pressure on returning officers to engage favourites.
He said the EC would investigate complaints about polling officers deemed incapable of being fair because of their commitment to certain parties.
Dr Afari-Gyan again assured the candidates that there was no way the elections could be skewed in favour of any party.
He said the last voter's registration exercise was "tumultuous," and that 76, 000 names out of the 349,000 deleted from the register, so far, would be handed over to the investigation agencies for possible prosecution for multiple registration.
Dr. Afari-Gyan said that more names would be expunged as the E.C scrolled down the register in alphabetical order.
Miss Laurentia Kpatakpa, Volta Regional Director of EC, who took the candidates through the election process, listed items, including screens and stationery so far delivered for distribution to polling stations in connection with the December elections.
She said that ballot papers would be moved close to the date of the elections under police escort.
Miss Kpatakpa said party agents had been given the opportunity to follow the process through registration to the collation and declaration of results.
She said the political parties should therefore make sure that they appointed only literate, trustworthy, committed and trained agents.