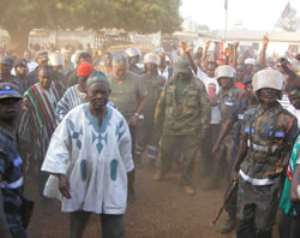 Former President Rawlings was given a rousing welcome on his arrival in Wa this week as part of his ten-day tour of the Northern Regions.
His first rally held at the forecourt of the Wa old palace temporarily brought all activities in the municipality to a halt as residents took over the streets with some riding on bicycles and motorbikes decorated with NDC party paraphernalia.
The party's sitting MPs and executives in the region attended the rally.
On Thursday he drove through some principal streets to pay courtesy calls on the Nandom Chief, Naa Yarinaa, Alhaji Mustapha, Birefo Naa Harry Gondaa (III) and the family of the late Ducie Naa Yakubu.
He also addressed rallies at Baamili, Birefo, Lawra and held a mammoth rally at Nandom Market Square where the former President Rawlings and Dr. Benjamin Kumbuor who is the MP for area addressed supporters.
Addressing students of the Nandom Senior High School, the former president advised registered voters among them to vote for NDC since it is the only political party that has good policies to ensure a better future for the younger generation.
He said because of the NPP's bad, selfish and corrupt governance most parents cannot afford their children's school fees.
Mini rally

At Tendaanba Junior High School Park where he addressed a mini rally, the former president said the NPP government has nothing to offer the people of Upper West Region. He noted that President Kufuor's government is insensitive to the plight of Ghanaians.
He stated that during the NDC's tenure the passion of reaching less privileged communities was demonstrated, unlike the NPP government which has discriminated against people of the Upper West and Volta regions which are the strongholds of the NDC.
He made it clear that December 7th represents freedom for Ghanaians because eight years of suffering and the indignity of NPP rule will be over.
The former president said what Ghanaians expect is free and fair elections as the country enjoyed during the time National Democratic Congress was in power.
He added that general elections should be treated with reverence to maintain its integrity.
He firmly dispelled rumours that he would assume power when Prof. Mills is elected president.
He warned Ghanaians against politicians who have laced their lips full of undeliverable promises just to take their votes.