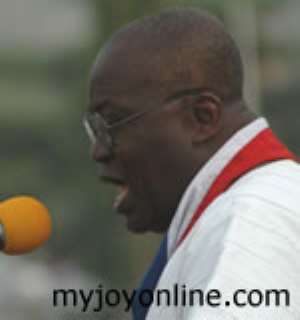 Nana Addo Dankwa Akufo-Addo, New Patriotic Party (NPP) Presidential Candidate on Friday stressed the need for peaceful coexistence between Muslims and Christians to consolidate national unity and progress in the country.
He made the call when he joined Muslims in Bolgatanga to worship at the central mosque during a tour of Upper East Region.
"Though I am a Christian, I see my presence in the Region today as a good opportunity to join you in prayers, since Muslims and Christians all worship the same God," he said.
Nana Akufo-Addo said his commitment to national cohesion and unity informed his choice of Dr Mahamudu Bawumia, a Muslim as Vice President for Election 2008.
He pointed out that together, they had an elaborate development programme for the three Northern Regions.
"It is time to close the development gap between the north and south to make Ghana a unified country with no disparities in socio-economic development opportunities. That would be the most important job of my Presidency," he said.
Nana Akufo-Addo urged the Muslim Community to pray for total peace and victory for NPP on December 7 to steer Ghana towards prosperity.
Alhaji Yussif Adam, Upper East Regional Chief Imam, prayed for God's guidance, wisdom and good health for Nana Akufo-Addo and Dr Bawumia as well as peace during Election 2008.
The Muslims appealed to Nana Akufo-Addo when elected to assist them to complete the Bolgatanga Central Mosque Project, had been stalled due to financial difficulties.
Nana Akufo-Addo introduced Madam Alima Musah, NPP Parliamentary Candidate for Bolgatanga Central Constituency to the Muslims.