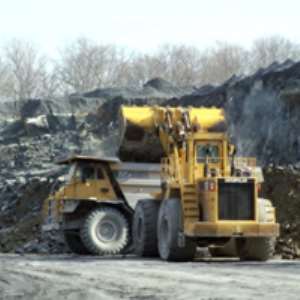 Biting deep into the earth, earth moving equipment at the site of a mining firm
Taking up the example of the small village of Dumasi in Ghana's Western Region and drawing upon her experience of filming a documentary entitled When Silence is Golden, Alexandra Sicotte-Lévesque discusses the destructive action of the Canadian Golden Star Resources mining company and its pressure on local people for forcible resettlement. While Canada's anti-poverty agenda cancelled some CAD$18 million of Ghana's debt in 2004, the author highlights the core contradictions of a Western nation that is conversely unwilling to accept any extraterritorial responsibilities in conflict with the needs of its own domestic economy. As Sicotte-Lévesque underlines, the principal poverty faced by local Ghanaian communities is above all one rooted in a lack of information, a lack underpinning a vicious cycle characterised by poor communities getting poorer as mining companies get richer.
'This is pure gold' Joanna Nkrumah told me as she carefully opened a small bag to unveil her grandmother's jewellery, which had been passed on to her by her mother. The beautifully crafted necklace and earrings had been made over fifty years ago by local goldsmiths, probably around the time when Ghana became the first country in Africa to gain independence from colonial rule. 'There are no goldsmiths here now. There is no gold anymore,' Joanna explained. 'No one can get gold, except the company.'
I met Joanna while preparing a documentary film on the impact of Canadian gold mining operations in Ghana. A fervent activist in her community, Joanna is an incredibly strong woman who won't ever give up a fight. Her family has been living for centuries in Dumasi, a small village in Ghana's Western Region and a few miles away from Prestea, a former major mining town now in decline. The family house, which she shares with her widowed father and some of her brothers and sisters, overlooks a large open pit mining operation. Joanna showed me around her farmlands, most of which have now been destroyed by the surface mining activities of Golden Star Resources, a Canadian company registered in Ghana as Bogoso Gold Limited (as per Ghanaian law, all mining companies in the country are partially owned at a rate of 10 per cent by the Ghanaian government.) 'We are jobless, formerly we are all farmers, now we don't have anything to do', Joanna told me. Some of her farmlands have been compensated for, but not always fairly she claimed. Since Golden Star has been operating near the village, cyanide spillages have occurred in nearby streams, farm lands expropriated and the open pit menacingly expanding closer to Dumasi. Today Golden Star is planning to resettle the entire village to mine the gold the community is sitting on.
A NEW MILITARY RULE?
Ghana has been praised in recent years for its economic stability and for being a haven of peace in a region often in turmoil. It is the second producer of gold in Africa, following South Africa, and democratic elections have taken place twice in the last decade. For such reasons, Canada has made Ghana one of its main beneficiaries of international aid on the African continent. So one can't help but be surprised to see the Ghana Armed Forces roaming the areas near Dumasi and Prestea, to protect, according to locals, the interests of Golden Star.
As surface mining increased in Ghana in the past few years, so did conflicts regarding land use. Indeed, foreign mining and exploration companies can acquire large stretches of land from Ghana's Minerals Commission while using only 50% for actual mining. In most cases, local communities are not allowed to farm on mining concessions unless permission is granted by the company.
Prestea, a historic mining town, has been at the centre of controversies for the operations of Golden Star. In 2001, the low price of gold (before its increase in 2002) caused financial difficulties for the Prestea underground mine owned at the time by a Ghanaian company. Not having paid its employees' salaries for more than five months, it decided to sell its site to Golden Star. Golden Star closed down the underground mine and began surface mining right in the centre of town, which caused much uproar in the Prestea community. Indeed, this meant that most employees of the underground mine were going to lose their jobs while others would lose their farms. Moreover, the community expressed worries about the environmental degradation that would occur because of the new surface mine. Conflicts also arose within the community, as the head of the traditional area, Nana Kyie, was accused of receiving monies from Golden Star on behalf of the community without accounting for it. Riots occurred when two young men were shot dead by security forces. In June 2005, more riots occurred as the Prestea community gave the authorities of Golden Star 21 days to cease all operations that were destructive their environment. Once again, seven people were injured as shots were fired at the demonstrators. In an interview granted for the film, Ghana's Minister of Mines did express his discontent with the actions of Golden Star.
However, conflict did not only arise in the area because of environmental degradation and loss of farmland caused by the presence of Golden Star. Traditional small-scale mining, locally known as galamsey (meaning 'gather and sell') has been an important livelihood in the area for generations. To this day individuals often risk anything, even their own health (mercury is a common chemical used in the process) to find nuggets of gold that will give them enough money to feed their families. The Ghanaian government attempted a few years ago to formalise this sector of the local economy by requiring that all small-scale miners obtain licences in the capital Accra. But as Gavin Hilson, a Canadian lecturer in environment and development at the University of Reading, has explained 'all of the land is under the concession of mining and exploration companies...so it makes it very difficult for these small scale miners to obtain a licence to work as a legitimate small-scale miner.' The persistent poverty in the region and the absence of alternative livelihoods undoubtedly encourage individuals to resort to small-scale and illegal mining activities in order to make a living.
Source: When-silence-is-golden.org