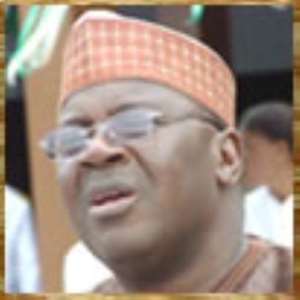 The Vice President of the Republic of Ghana His Excellency Alhaji Aliu Mahama has received a Fellowship Award, (Lifetime Achievement Award) The GNAHAF Order of Merit of Distinction in Leadership and Politics, Management, Engineering and Sportsmanship", the second highest award of the Ghana National Honorary Awards of Fame, an Agency of the Country Awards Council – Ghana, CACG.
Vice President Alhaji Aliu Mahama accepted the honour in a special ceremony held at the Seat of Government, Castle – Osu, Accra
In a citation accompanying the award which was read by the Vice Country Director in Charge of the Ghana National Honorary Awards of Fame, His Awardship Ebenezer Odjawo stated "on every road you travelled, you demonstrated compassion and resolve, wisdom and understanding, integrity and commitment'.
It continued: "Few – if any – in our history have served so often, so unselfishly, and so well. It is an unprecedented fact that you are one of the few finest politicians in Ghana's politics in recent times".
The Country Director of the Country Awards Council – Ghana, His Awardship Kobla Asamani, FGNAHAF who conferred the Award on the Vice President, described him as a man stands for truth, mindful of his work and a leader who performed his duty with dedication and integrity. He further stated that Vice President Alhaji Aliu Mahama is original and ever true to his values and principles in his service to God, Country and Humanity".
Country Director His Awardship Kobla Asamani used the occasion to call on journalists, election officials and the citizenry to be circumspect in their work, reportage, pronouncements and their actions in order to maintain peace, before, during and after the impending polls.
He added that the council has instituted the National Peace Honour Award to recognise the tremendous performance and achievement of individuals, journalists, election observers and politician's role in nation building in the forthcoming elections.
In a message read on behalf of the Vice Patron and Chairman of the Board of Governors of the CACG His Awardship Major Courage E. K. Quashigah by Mr. Samuel Kwasi Asamani, Advisor of the Country Director said, "Let me extend to you our heartfelt appreciation for your acceptance in the involvement of the council's philosophy, objectives and operations; your unwavering devotion and commitment to leadership, management, youth development, sportsmanship and engineering has earned you such a rank".
H. A. Maj. Courage E. K. Quashigah also congratulated Vice President Alhaji Aliu Mahama on his admission to the Ghana National Honorary Awards, stating that "we are privileged to honour your life, your accomplishments and your contributions by conferring on you our second highest honour, a Fellowship Award (Live Achievement Award)" of the Ghana National Honorary Awards of Fame.
In response, the Vice President portrayed the award as timely, especially as he is about to finish his second term of office.
"it is in profound recognition which testifies to the belief that anything is possible for those who aspire to learn, serve, and lead at the highest levels without violence, oppression and suppression and abuse of human rights". "The award he said was much more than an honour to "me personally; I therefore dedicate it to everyone who has helped me come this far".
Calling on the people of Ghana to join hands with him to celebrate the recognition, his Excellency Ahaji Aliu Mahama noted that at times history and fate meet at a single place to shape a turning point in man's quest for reaching greater heights.
While expressing appreciation to the council on the honour done him, Alhaji Aliu Mahama expressed the hope that the honour would serve as inspiration to new generation of young leaders to come forward and use their talents for the good of the country.
His Excellency, His Awardship Alhaji Aliu Mahama, FGNAHAF was also appointed Patron of the Country Awards Council – Ghana (CACG). He was therefore presented with a Certificate of Credence as the Patron of the CACG by the Country Director of the Country Awards Council – Ghana, His Awardship Kobla Asamani, FGNAHAF.